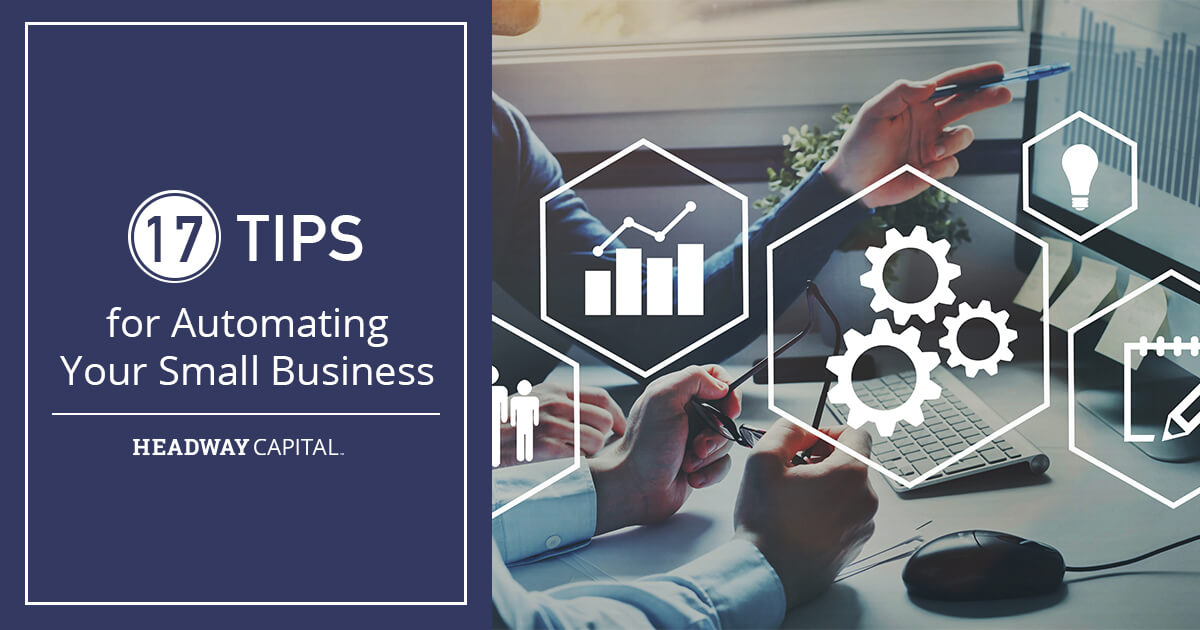 17 Tips for Automating Your Small Business
Nowadays, automation has become a top priority for small businesses everywhere — and rightly so. Automation can offer major competitive advantages to business owners, especially those with heavy workloads. In fact, according to a recent estimate, about 25% of CEOs' time is currently spent on activities that machines can do!
If you want to reap the lucrative benefits of automation, but don't know where to begin — or if you're looking to automate your business even further — here are some tips to get you going.

1. Identify Repetitive Tasks in Your Workflow
To find opportunities for automation, start by looking for routine manual processes that take up a considerable amount of time and resources. The more frequent the task, the more you have to gain by automating it.
2. Start Small, Then Go Big
The larger the task, the more likely it is that you'll face challenges in trying to program it. That's why it's best to start with small, predictable tasks first, before you try fully automating entire processes that are essential to your business.
3. Know It Before You Automate It
Prior to automating any task, it stands to reason that you must fully understand every part of the process. This way, you can easily break down the work into smaller steps that are simpler to program, iterate and optimize later down the line.
4. Get Tools to Speed Up the Process
There are many free online tools that let you program anything from data entry to your marketing efforts. You can even code a tool specific to your business. This will cost you more, but the investment can quickly pay for itself (no pun intended). And if you don't have the funds to invest quite yet, this could be a good time to apply for a business line of credit.
5. Integrate Software With Larger Capabilities
If you haven't already, it pays to get your business on a cloud computing service like Microsoft Azure or Google Cloud. These platforms offer many advantages like built-in tools for automation, regular updates and the ability to grow with your company as you scale up.
6. Save Your Work for What You Do Best
It's best to automate tasks that don't directly relate to the core competencies of your company. Not only will this allow you to dedicate more manpower to profitable work, it will also give you more time to focus on ways to help your business grow and thrive in your market.

7. Optimize Your Lead Generation
Long gone are the days of gathering and managing leads through cold calls and sticky notes. To keep your business competitive in the digital era, you can use cloud-based software like Salesforce to help you generate leads — and nurture them when you inevitably do.
8. Send the Right Email at the Right Time
Looking to maximize the results of your email marketing? Automating your emails with Pardot can help you increase customer engagement, allowing you to strategically schedule your emails to send at the right moment, deliver personalized messaging and even A/B test your content.
9. Make Collaboration More Seamless
No matter the size of your company, it can be easy for important information to get lost in the mix when teams work together online. Collaboration platforms like Slack make it quick and easy to collect and share knowledge all in one place, offering automated workflows, dedicated channels and tons of add-on tools.
10. Take All Your Business Calls
Whether you want to avoid losing out on hot leads due to missed calls or simply increase productivity, voice over IP (VoIP) phone systems can make handling phone calls a lot easier. VoIPs operate over the internet, allowing you to offer automated customer assistance and access time-sensitive voicemails outside of the office, so you can respond right away.
11. Schedule Your Social Media Posts
Posting to each of your social media accounts individually can be a time-consuming process. Social media management tools like Hootsuite enable you to schedule posts across all of the most popular social media platforms in one place, freeing up time that can be better spent on customer care.
12. Hire From a Larger Talent Pool
Recruiting great talent for your company is easier when you have greater options. If you're looking for candidates to hire, ZipRecruiter can streamline the process, allowing you to automatically post job opportunities to over 50 different online job listings at once. Plus, you can even manage all the applications on one site.

13. Offer 24/7 Customer Service
A growing pain for many small companies is only being able to provide customer support during business hours. When you're ready to take the next step with automation, Zendesk can make it easier to offer around-the-clock customer service. The Zendesk Suite lets your customers get answers immediately with useful features like help centers and AI-power answer bots. The best part? You can customize almost everything.
14. Manage Inventory With Ease
Automating your inventory system may seem unnecessary and complicated now, but if you're planning to grow your business, it can set you up for success. Inventory management platforms, like the one offered by NetSuite, can help your company become more scalable by increasing the overall accuracy, efficiency and traceability of your inventory.
15. Handle HR From Anywhere
For small businesses, the responsibility of human resources may fall on a sole employee or office manager. That's where HR automation comes in handy. Robust tools like Zoho People or Zenefits can allow you to automate routine work such as new hire onboarding, employee management and leave requests. Plus, you can do it all from a mobile device, so your HR manager can address urgent tasks on the go.
16. Pay Less for Payroll
According to the American Payroll Association, automation can reduce your payroll processing costs by as much as 80 percent. Today, a growing number of online payroll services have made it easier than ever to streamline your payroll, allowing you to automate error-prone processes like tax payments, e-filings and direct deposits.
17. Speed Up Your Accounting
Accounting has always been an unavoidable, tedious job for any small business. That is, until now. QuickBooks has opened a new realm of possibilities that can streamline your accounting-related tasks, allowing you to automatically collect bank statements, automatically sort expenses and more.
As you can see, the possibilities for automating your business are nearly limitless. The key is to start in a place where you feel comfortable, and slowly begin seeking out other opportunities for automation as your operation grows. Before you know it, you'll be able to dedicate more and more time to the areas of your business that matter most to you.