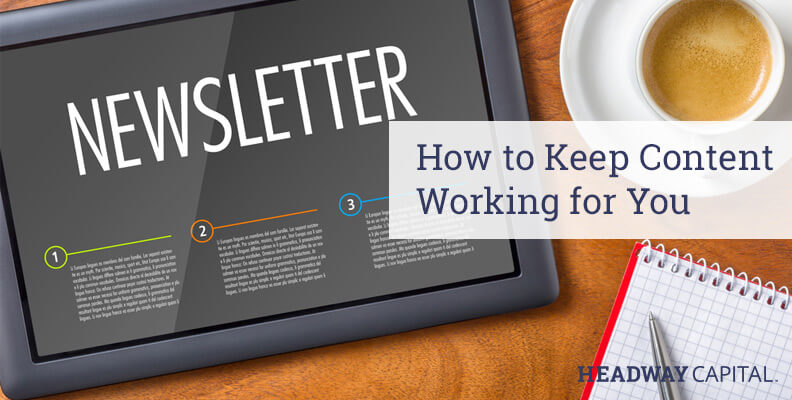 Get the Most Out of Your Content
Content marketing is important — it establishes your business as a knowledgeable player in your industry and builds your reputation as a passionate and involved member of your professional community. Still, generating top-quality content isn't easy. Small businesses especially face a balancing act between devoting resources to generating content and spending time on other, more immediately necessary tasks. That's why repurposing content is so important. With a little creativity, every piece of content you create can live again many times over in different formats. Below, we've listed 5 ways that you can make your content go the extra mile.
1. Break It Down
Your blog isn't the only place where content can make a difference. Try splitting blog posts into smaller chunks that can be used on social media, for instance. A top 10 list could be Tweeted out one item at a time over several days. Alternately, each item could become a slide in a PowerPoint presentation.
2. Synthesize It
If you've got a series of blog posts that revolve around a similar theme, you're already halfway to having a book on your hands. With ebook publishing easier than ever, it only takes a little more effort to edit those posts, add some connective tissue and have an impressive work that encapsulates your business's innovative position on some key topic.
3. Transform It
Say you've just written a great blog post — all the research and writing time you put into it can keep working for you! That content could also be expressed as an Infographic or a video. Make sure your great ideas and insights exist on as many channels as possible.
4. Aggregate It
Do you have a newsletter that you send to clients? They might never go to your website, using that letter as the primary way that they hear from you. Whenever you send out your newsletter, include some of your best blog posts and other content, making sure that these readers get a chance to see your team's work.
5. Let It Live Somewhere Else
If you've got a really excellent blog post, consider reaching out to a journal, industry blog or newspaper and offer them first publishing rights. These types of publications are always on the lookout for quality content, and your work will look even more impressive appearing in such a venue. Depending on the agreement, you'll likely be able to post the content on your own site after a set period of time.