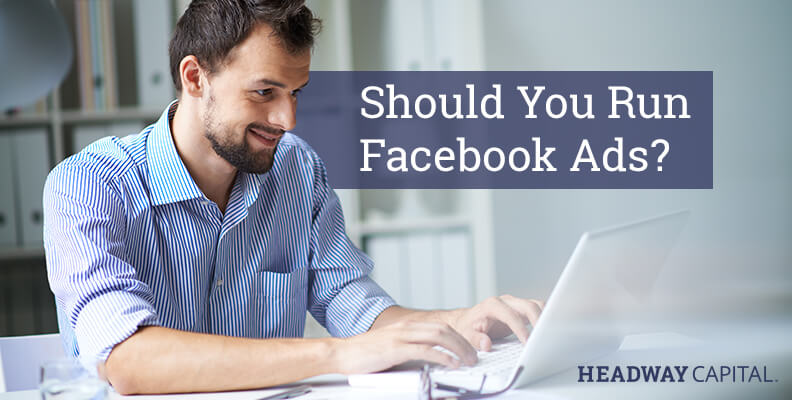 How Your Small Business Can Run Facebook Ads
There are more than 30 million small businesses with active Facebook accounts.1 The reason many small businesses are so active on their Facebook business pages is to run Facebook ads! Marketing on Facebook can help your business connect with people on desktop or mobile and drive sales.
With Facebook ads, you can accomplish four key goals:2
Drive online sales
Increase local sales
Promote your app
Raise brand awareness
By marketing your small business using Facebook ads, you can connect with new customers and build lasting relationships with current customers. However, the real concern is: how do you run an ad? We created a simple guide for you below.
Setting It Up
We'll just assume you have already created (or manage) a Facebook business page for your company. The best way to become familiar with your pages' dashboard is just to browse through it! For assistance, visit https://www.facebook.com/business/. Learning to navigate your pages' functionality will help you set up your Facebook ads with ease.
Selecting Ad Purpose
What is the goal of your Facebook ad? Are you trying to promote new products? Do you want to increase traffic to your website? Do you want more people to download your app? Whatever your marketing plan is, you can choose the results you desire for your ad. The best part is, if one objective doesn't work well, you can choose different results for your next ad! 
Engagement
Facebook ads appear in the News Feed — either in the right sidebar or within the feed. This means it will appear in the middle of the page or on the right side of the page (along with other advertisements). News Feed ads receive more engagement and are a better option for those who are less experienced with advertising.3 However, test different versions of your ads by using different images and copy to see the difference. 
Target Demographics  
After you create your ad, you will need to select a target audience. You can do this by choosing from the following options:
Age
Gender
Languages
Interest
Behaviors
Categories
Connections
When you are choosing your target demographics, try to be as specific as possible. Use the specific descriptors like relationship status, industry or whether someone has children. For instance, who are the individuals your business is trying to serve? Who is the specific group of people that benefit from your product? Once you have narrowed those demographics down, target them. Additionally, you can target your ad to users according to their likes, interests or individuals who like your competitors. 
Budget
After you have successfully created your ad, you will need to specify a budget. You do this by selecting an amount per day (i.e. $5, $10, $20, etc.,) and a schedule (i.e. 1 day, 7 days, 14 days, etc.). However, with most Facebook ads, you have the options to pay per click or per impression.3 For your first ad, we suggest starting with a small amount to be certain that you targeted the best demographic!
GO!  
After you have carefully selected your budget and set your begin and end dates — you are set to run a Facebook ad!
To learn more about setting up and running Facebook advertisements, visit https://www.facebook.com/advertising.
References
1Legler, D. (30 July 2014). DIY vs. expert help: Should small businesses run their own Facebook marketing campaigns? Retrieved June 25, 2015 from http://www.godigitalmarketing.com/diy-vs-outsourcing-small-businesses-run-facebook-marketing-campaigns/
2Facebook. (2015). Facebook for business. Retrieved June 25, 2015 from https://www.facebook.com/business/
3Moffat, K. (17 July 2014). The beginner's guide to Facebook ads for startups, small businesses and non-profits. Retrieved June 25, 2015 from http://thenextweb.com/socialmedia/2014/07/17/beginners-guide-facebook-ads-startups-small-businesses-non-profits/