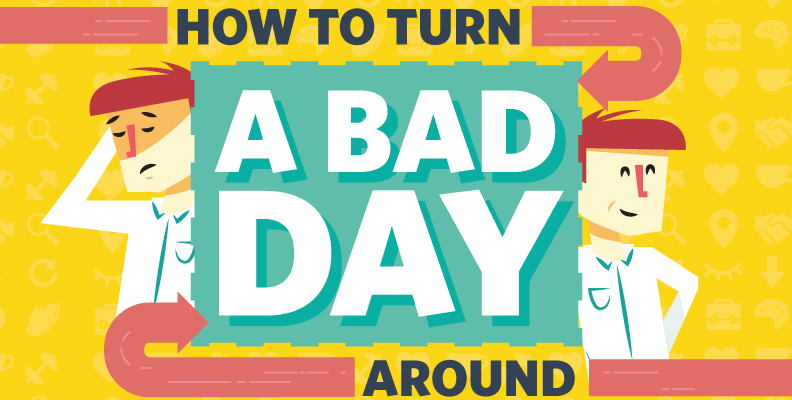 How to Turn a Bad Day Around
In an age when we have so many demands on our time, writing off a wasted day because you couldn't turn a bad start around can be deeply frustrating. From stubbing your toe to going through a disastrous job interview, when your mood sinks it can feel like there's nothing that can be achieved and no distraction worth your time. If you're trying to work or you have other things that need to get done, a positive mindset can make you 31% more productive — just one reason to approach your inactivity with objectivity and take pro-active steps to rescue the day.
After a deep breath (and perhaps a cup of tea), re-evaluate the problem. This begins with identifying the issue: you may think the cause of your upset is obvious, but laying it out in a single sentence can help you regain perspective. Work out why it went wrong, and evaluate the real damage on a scale of 1 – 10. This isn't about ploughing on with your day regardless, but re-assessing what damage limitation can be done (if necessary) and how much can be achieved in light of your change in circumstances. Consciously choosing to learn from your mistakes can also make a disaster feel just like part of a bigger, positive process.
Turning your mood around may involve putting thirty minutes aside to do something different from your intended task. This can be as therapeutic as talking to a friend about went wrong, or as distracting as watching a sitcom you love. Half an hour in another world can help reset your mood. And don't neglect the physical: do some exercise to get the endorphins flowing, or if that feels like too much, jump in the shower and give your body a fresh start.
Working to maintain that positive mindset even in the face of damning setbacks can actually be good for your health, contributing to a 23% reduction in potential side effects from stress. Be sure to check out this new infographic exploring ways to bust through that bad day and keep it on hand so you can stroll firmly ahead when glitches threaten to disrupt your flow.

Remember that there's always tomorrow, and bad days happen, even in business. If your enterprise needs funding, a small business loan can help get you back on your feet.
Sources 
Sirena Bernal. 10 ways to turn a bad day around in 10 minutes or less. Tinybudha.com
Seth Simonds. 7 quick ways to turn a bad day around. Lifehack.org
Gwen Moran. 2015. 6 simple ways to turn a bad day around. Fastcompany.com
Amy Gallo. 2015. How to turn a bad day around. Hbr.org
Cenedella, M. (2016). I Had a Bad Day. huffingtonpost.com
My Body And Soul (2016). A cup of tea could save your life. bodyandsoul.com
Prince, R. (2015). How To Learn From Your Business Mistakes. forbes.com
Domonell, C. (2015). Why endorphins (and exercise) make you happy. cnn.com
Embed This Image On Your Site (copy code below):