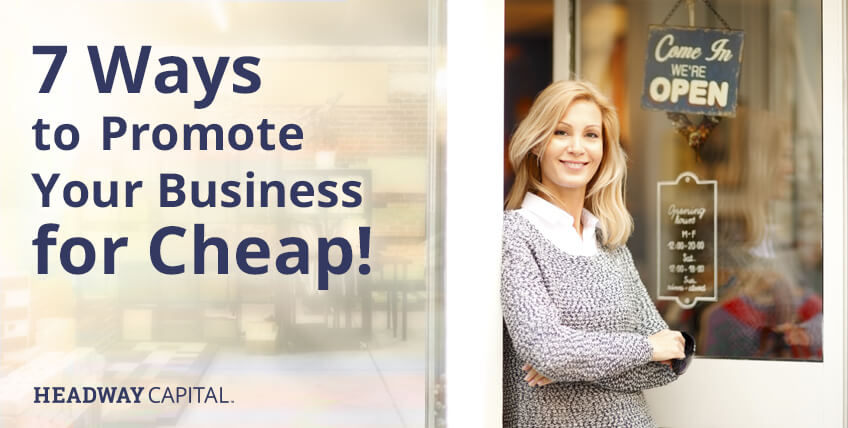 Monthly Challenge: Promote Your Business on a Budget
With all that a business owner has to take care of on any given day, marketing is frequently something that goes to the wayside. And if dollars get tight, marketing is often the first place the belt gets tightened. Since business owners will always be busy and marketing dollars can always be optimized, we've come up with a list of seven ways you can make the most of your marketing while on a budget.
1. Focus on Your Community
Sometimes small business owners fall into the trap of thinking too big with their marketing efforts. By focusing on the areas your core customers live, work and play, you can hone in on just the people you want to advertise to. Many opportunities to get your name out in the community exist. Have you considered sponsoring a youth league team or a charity walk/run? You can advertise in local church bulletins or print bookmarks and leave them at the local library. Establishing your business as part of the community will help strengthen the connection between you and your customers.
2. Network
Similarly, networking is just putting your face into the community you're a member of. While advertising can do the work for you when you can't be there, making a good impression by volunteering and networking in your community is something that can reap great rewards. A strong network is one of the greatest assets a business person can have.
3. Build Relationships Through Email Marketing
It's much less expensive to keep a customer than it is to acquire a new one. That's why establishing strong relationships with your customer base is crucial. One of the easiest ways you can do that is by keeping in touch through email marketing. By creating a newsletter or other form of marketing email that provides something of value for your audience (whether it be news, special offers or both), you can create a strong base of customers you can access whenever you'd like, in a very cost-efficient manner.
4. Ask for Referrals
Don't be afraid to ask your customers for referrals! Referrals make it easier to get in the door with new customers. If you aren't asking for them, you are missing opportunities. But if asking for them in person seems awkward, consider adding referral requests to the bottom of emails, or even on your business cards. If your referrals go on to refer new customers, you're creating a chain of new customers that can create new business in a self-sustaining manner.
5. Think About PR
Being strong in the area of public relations means being proactive rather than reactive. Technology today has made it easier than ever for a small business owner to accomplish a lot without hiring a professional firm. For one thing, you can subscribe to Help a Reporter Out. The site allows business owners to respond to reporters that are looking for story ideas and resources. Some are small media opportunities, but major media outlets use this service too.
6. Offer Coupons
Coupons are a cheap and effective way for businesses to attract new customers. Just think about when and where you're using them. Keeping a localized approach certainly helps, but coupons can be most effective when generating return visits. Giving them to existing customers can pay off much better than sending them out to the general public.
7. Work on Your Digital Presence 
If you are a local business, you should definitely claim and monitor your business on Yelp if you haven't done so already. It's free, and it can be a great way to increase your visibility in the search engines. Similarly, beef up your presence on the main social media sites your customers are on, and dedicate the time and resources to maintaining it. So much of the information we receive today comes from online sources and on our phones, so your digital presence is perhaps the easiest way you can reach customers and develop a positive image for your business.