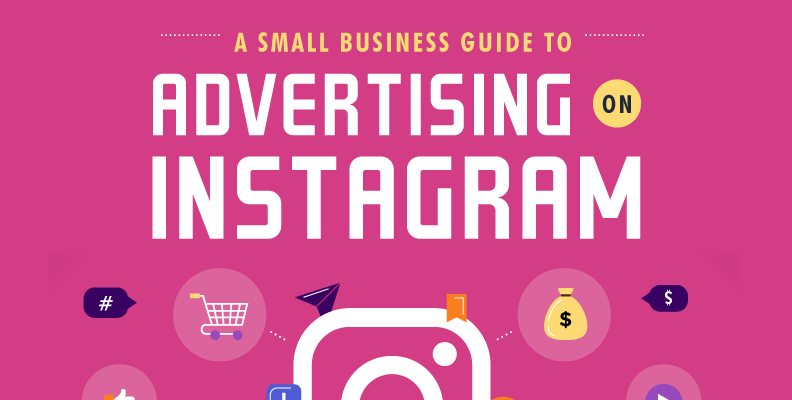 A Small Business Guide to Advertising on Instagram
As more and more brands join Instagram and the feed becomes more competitive, it can be harder for a small business to stand out. But Instagram ads have become an enticing avenue for businesses looking to increase engagement (and profits, too).
With nearly three-quarters of Instagram's 800 million active users claiming to have a made a purchase under the influence of the photo-sharing site, you don't need to be a master entrepreneur to see the opportunity. You might want to up your Instagram game, though, if you want to make the most of Instagram's advertising tools.
There are six different types of ads you can post on Instagram, and each serves a different purpose. The classic single image is a great way to let your audience linger over your product. But it can be more effective to show your product in action, using humor and a personal touch to integrate it into your audience's social feed.
Instagram Stories is a newer way to create a 'moment' with sound, video, and text. You can deliver a more detailed message and an urgent call-to-action to get those users shopping for your brand.
But advertising on Instagram isn't just about creating captivating imagery. Your business needs to know why it's creating the ads, the results you want, and how to measure them. Thankfully, because Instagram is part of the Facebook family, you can find access to all sorts of tools and statistics once you get under the hood.
We've made it simple for you to figure out what you need and how to go about it. Our new visual guide to advertising on Instagram contains the hows, whys, and best practices for setting up your first campaign.
Over half a billion potential customers are out their scrolling their Instagram feeds right now. What would you like to tell them?

If you want to explore Instagram ads, a line of credit can give you the boost you need to make a successful and impactful ad.
Sources
Instagram. Stand out with Instagram. instagram.com
Benson, Z. (2018). 10 Reasons to Use Instagram for Your Business. business.com
Osman, M. (2018). 18 Instagram Stats Every Marketer Should Know for 2018. sproutsocial.com
Campbell, C. (2018). The Beginner's Guide to Advertising on Instagram. shopify.co.uk
Evans, B. (2018). Experts Dish Instagram Ad Tips to Save You Major Embarrassment. agorapulse.com
Lua, A. The Complete Guide to Instagram Ads: A Step-by-Step Guide to Advertising on Instagram. bufferapp.com
Lauber, G. (2015). 7 Ways Businesses Are Using Carousel Ads. facebook.com
Facebook. Types of ad formats. facebook.com
Facebook. Set up deep links in collection and dynamic ads. facebook.com
Iconosquare. (2018). Iconosquare: Instagram & Facebook Analytics and Management Platform. iconosquare.com
Buzzsumo. (2018). Buzzsumo: Find the Most Shared Content and Key Influencers. buzzsumo.com
Facebook. Create an Instant Experience for ads on Instagram. facebook.com
Instagram. (2018). Instagram Stories ads. instagram.com
Facebook. Guide: Choosing the Right Advertising Objective. facebook.com
Facebook. Create ads with Guided Creation. facebook.com
Adam. (2018). Instagram Ads 101: The Anatomy of An Winning Ad. jarvee.com
Adespresso. (2017). 55 Amazing Instagram Ads Examples To Inspire You. adespresso.com
Allen, J. (2017) Vertical Video Really Might Be More Engaging. stateofdigital.com
York, A. (2018). How to Not Suck at Instagram Hashtags in 2018. sproutsocial.com
Smith, B. (2018). Instagram Ad Best Practices That Will Make You an Outstanding Marketer. adespresso.com
York, A. Best Times to Post on Social Media: 2018 Industry Research. (2018). sproutsocial.com
Embed This Image On Your Site (copy code below):