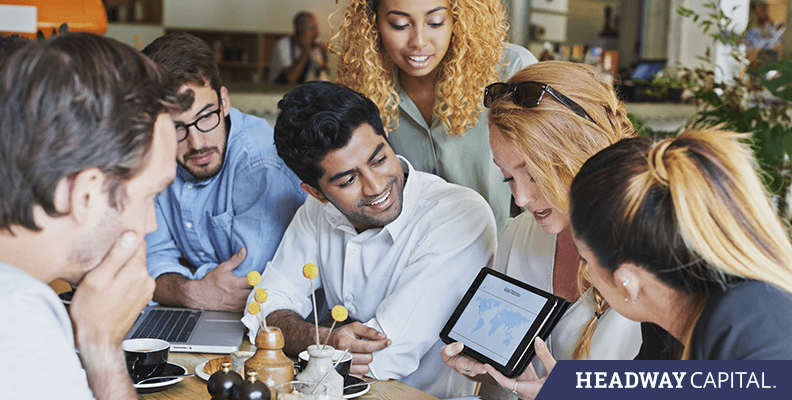 Small Biz Team-Building Activities
Whether your small business has 5 employees or 100, teamwork is a necessary aspect of a productive and successful small business. Your employees must learn to work well and communicate with one another in order to complete work in an effective manner. By helping each of your employees understand their role, you can give them the tools to build trust and bring their best skills to the table!
90 percent of small businesses in the United States have fewer than 20 full-time employees and 96 percent have fewer than 50.1 Though the team-building activities we've collected below are geared towards small groups, they can be scaled for large groups too!
Create An Issue2
Time Required: 1 Hour
Every small business comes with their own set of difficulties and issues. As a team-building activity, present your employees with a fake issue that comes up in your business often and give them an hour to develop a unique solution. After the hour is up, have each of your employees present their solution to the group. This activity promotes creativity, communication, trust and time management.
Make a Mission Statement 
Time Required: 2 Hours
An integral part of making your employees feel invested in your business is allowing them to have a say in your core company values. A team-building activity that will help establish your small business's mission is to have each member of your team draft a mission statement. Once your entire team has drafted their mission statements, let them present. At the end, have each member select the one that they prefer! This team-building activity helps each employee establish a common ground and shared vision.
Outdoor Event
Time Required: 3 – 5 Hours
If time, weather and space allow it, organize an outdoor scavenger hunt! Sort your employees into partners or small groups with individuals they don't work with on a daily basis. This team-building activity promotes the shared vision of your small business and increases overall communication.
Employee Feedback Luncheon
Time Required: 1 Hour and 30 Minutes 
Do you know why your employees love working for your small business? Are you aware of what they do to better your team? To learn all of this and more, host an employee feedback luncheon! First, take a poll amongst your team to find out what kind of food they would prefer. Second, construct an employee survey and encourage them to freely express themselves. Third, have each of your employees switch papers and have them share one another's feedback. The last and most important step: IMPLEMENT THEIR CHANGES!
References
1Obamacare Facts. (2015). ObamaCare small business facts. Retrieved August 17, 2015 from http://obamacarefacts.com/obamacare-small-business/
2Chowdhury, R. (2 September 2009). 10 quick and easy team building activities. Retrieved August 17, 2015 from https://www.huddle.com/blog/team-building-activities/