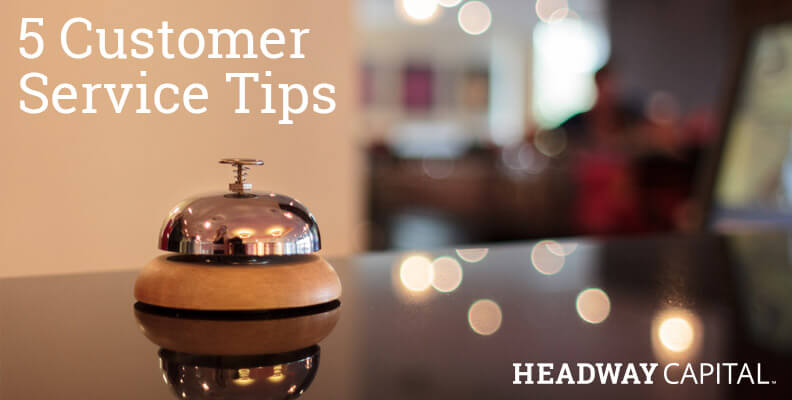 How to Provide Excellent Customer Service
Improving the customer service experience is continually a top priority for small business owners. Do you know how to provide your customers with the best service? There is always room for improvement and tips for efficiency. Here are five ways to improve:
Invest in Training1
Fact: By 2020, customer experience will overtake price and product as the key brand differentiator.2
To serve your customers well, it is critical to hire the right individuals and train your staff well enough to serve them. This extends from knowing and understanding the products and services your company offers down to identifying how to communicate with certain customers. If you train your employees well, they will have the right skill set to be able to serve the customers efficiently.
Provide Multiple Contact Points1
Fact: 92% of organizations that view customer experience as a differentiator offer multiple contact channels.2
First off, identify what form of technology your customers will be more inclined to use to contact you for customer service inquiries. Will they call your landline? Will they contact you via email? Are they reporting issues on your social media channels? Will they use a chat bot on your website? Providing multiple options for customer service will help solve customer service issues faster and help with customer retention.
Listen or Read Carefully
Fact: 82% of consumers say the number one factor that leads to a great customer service experience is having their issues resolved quickly.2
Customer service is about problem solving. To be able to identify and resolve your customers' issues, you will need to listen or read and respond well. This means hearing what your customer is saying as much as what they are communicating nonverbally. Solving their issues will help boost or tarnish the brand you are building.
Be Responsive
Fact: 83% of consumers require some degree of customer support while making an online purchase.2
If your customers are reaching out to your representative, there is nothing worse than be unresponsive. It is crucial for your customer service representatives to help resolve issues and provide information about your company. Respond quickly, even if you have to delve deeper into the issue and contact them back.
Request Feedback3
Fact: 84% of companies expect to increase their focus on customer experience measurements and metrics.2
Did your customer receive the best service possible? The only way to guarantee they were satisfied with their service is to ask. You may be shocked to learn what you did well and what you need to improve upon. When you receive feedback, you will be able to identify the areas of improvement and implement the necessary changes.
References
1Gregory, A. (2014). 9 tips for providing excellent customer service. Retrieved November 18, 2014 from http://sbinformation.about.com/od/marketingsales/tp/tips-for-excellent-customer-service.htm
2Daniela. (20 February 2014). 20 important customer experience statistics for 2014. Retrieved November 18, 2014 from https://fonolo.com/blog/2014/02/20-important-customer-experience-statistics-for-2014/
3Knight, B. (14 October 2014). Customer service: A market differentiator for small business. Retrieved November 18, 2014 from http://www.huffingtonpost.com/brandon-knight/customer-service-a-market_b_5985742.html