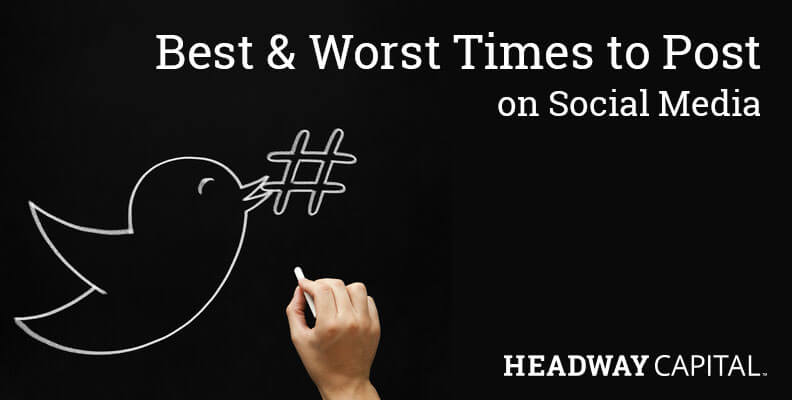 Prime Time to Share on Social Media
84 percent of business owners use social media to access their customers across multiple touch points. As a business owner, if you are putting effort into social media marketing, don't you want to post at the best times possible?
71 percent of active social media users are more likely to make purchases from a company they are connected with online.1 So what is the best time for small businesses to reach them? Read on for a breakdown of the prime times during the day to connect with your customers.
Facebook2
On Facebook, your business has the ability to reach over 1 billion people, target your exact demographic and interact directly with your customers.
Best: Facebook gets the most 'clicks' during 1 pm until 4 pm. The peak time is Wednesdays at 3 pm.
Worst: On the weekends before 8 am and after 8 pm is the worst time to post status updates, share news and images.
Facebook tip: Posing a question, rather than sharing an update, can increase interaction by 10 to 20 percent.1
Twitter2
Business owners use Twitter to develop their brand's personality, to cultivate relationships with customers and to convert those interactions to sales.
Best: The best time to tweet is during the week on Monday through Thursday, from 1 pm until 3 pm. To maximize exposure, tweet on Monday through Thursday between 9 am and 3 pm.
Worst: Avoid tweeting everyday after 8 pm and specifically on Fridays after 3 pm.
Twitter fact: Tweets with images result in 36 percent increase in clicks and 33 percent increase in visitor-to-lead conversion rate.
LinkedIn2
80 percent of small business owners with 200 or fewer employees use LinkedIn to find new customers, grow their revenue and build credibility with content.
Best: Link with your connections for optimal success on Tuesday, Wednesday and Thursday. For extra clicks, try noon and between 5 pm and 6 pm.
Worst: Avoid sharing content on Monday through Friday between 10 pm and 6 am.
LinkedIn fact: Small businesses utilize LinkedIn 30% more than other social networks.1
Google+1,2
Business owners are quickly starting to realize that Google+ increases their online presence and to maximize visibility on Google search pages.
Best: The prime time to share content and connect with your followers is any time of the day between 9 am and 11 am.
Worst: Avoid sharing news and updates in the early mornings and evenings.
Interesting fact: Small businesses only use Google+ for 4% of their overall marketing, so be sure it is necessary for your network.1
References
1 Price, S. (2014). The small business guide to social media mastery. Retrieved October 29, 2014 from https://placester.com/real-estate-marketing-academy/infographic-the-small-business-guide-to-social-media-mastery/
2 Gillett, R. (25 September 2014). The best (and worst) times to post on social media (infographic). Retrieved October 29, 2014 from http://www.fastcompany.com/3036184/how-to-be-a-success-at-everything/the-best-and-worst-times-to-post-on-social-media-infograph