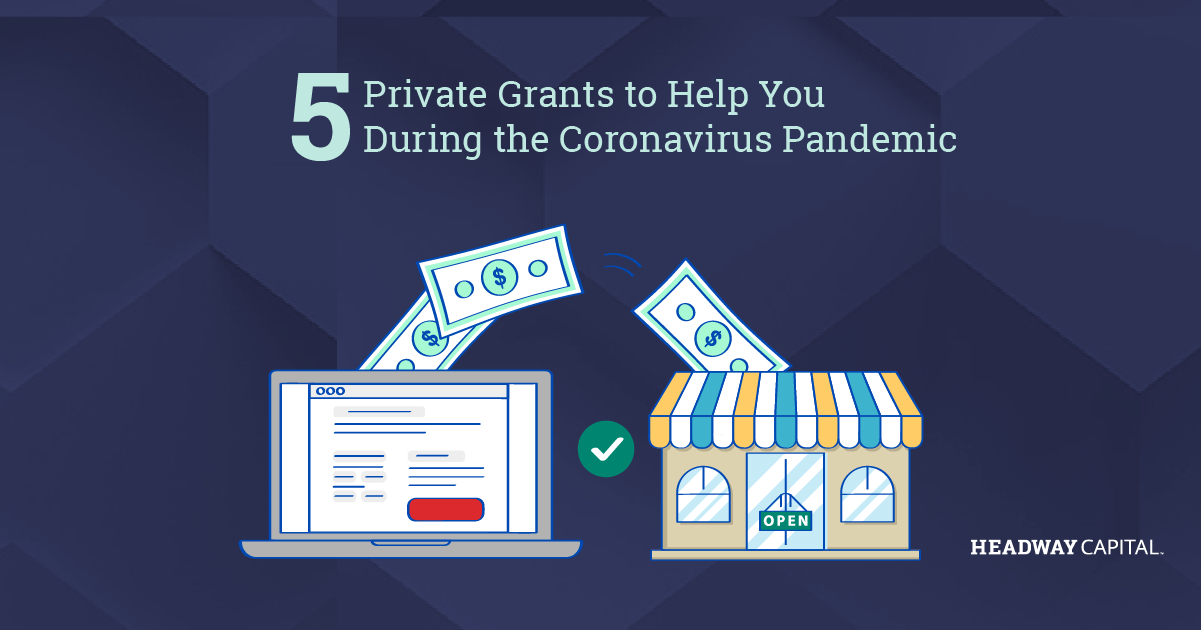 Private Grants for Small Businesses Affected by COVID-19
As revenue sources slow or stop due to the COVID-19 pandemic, entrepreneurs across the country are acting fast to keep their small businesses afloat. The CARES Act set aside $377 billion for small business relief through programs like the Payment Protection Program (PPP) and the Economic Injury Disaster Loans (EIDL), but with 96% of small business owners feeling the impact of coronavirus, it leaves many wondering if there is enough funding to go around.1
Due to the volume of applications for PPP- or EIDL-based capital, government funds have been slow to roll out. Fortunately, titans of the private sector have taken notice of this challenge and stepped in to help by offering grants. Grants are generally a small amount of money aimed at supporting a specific small business goal. Unlike a traditional loan, you do not have to repay it, but you do have to use it for its intended purpose. In this case, the intended purpose is to help support small businesses during the coronavirus outbreak.
Grants are usually much smaller than a traditional business loan, so you may want to apply for several to help close your funding gaps. Start with this list of private grants.
Amazon Neighborhood Small Business Relief Fund
Amazon has set aside $5 million for their grant program to assist small business owners who are struggling to fund their day-to-day operating expenses. This grant does not have usage requirements and is simply aimed to help with "short-term variations in cash-flow demonstrated by the effect of reduced foot traffic."
You are eligible to apply if:
Your small business has fewer than 50 employees or less than $7 million in annual revenue.
Your small business is in Seattle or Bellevue area.
Apply here for Amazon Neighborhood Small Business Grant
Facebook Small Business Grants Programme
Facebook has allocated $100 million in cash grants and ad credits to help small businesses around the globe during this challenging time.
You are eligible to apply if:
You have between two and 50 employees.
You have been in business for over a year.
You have experienced challenges from COVID-19.
You are in or near a location where Facebook operates.
Apply here for Facebook Small Business Grants Programme
Verizon Small Business Recovery Fund
Verizon invested $2.5 million in the Local Initiatives Support Corporation (LISC), which is offering grants to help small business owners fill urgent financial gaps until they can resume normal operations or until other more permanent financing becomes available. LISC encourages entrepreneurs of color, women-owned businesses and other enterprises in historically underserved communities who don't have access to flexible, affordable capital to apply.
You are eligible to apply if:
Your business is facing immediate financial pressure due to COVID-19.
Apply here for the Verizon Small Business Recovery Fund
Cisco
This tech company is offering $8 million in cash grants to small businesses in need due to COVID-19. Additionally, Cisco is offering $120 million in free access to its products, which may help small businesses that are able to transition to a remote working environment. As of April 13, Cisco hasn't announced specific eligibility requirements or details for the application process. Visit Cisco's coronavirus page for the latest information.
GoFundMe
The popular crowdfunding platform teamed up with Yelp and QuickBooks to offer $500 grants to small business owners. The funds must be used to cover payroll and operating expenses.
You are eligible to apply if:
You've raised at least $500 through a GoFundMe campaign.
You have proof of lost revenue due to COVID-19.
Your business is independently owned and operated.
Apply for the GoFundMe Small Business Relief Initiative and Fund
References
1Axios. (2020). 96% of small business owners are already feeling coronavirus impact.