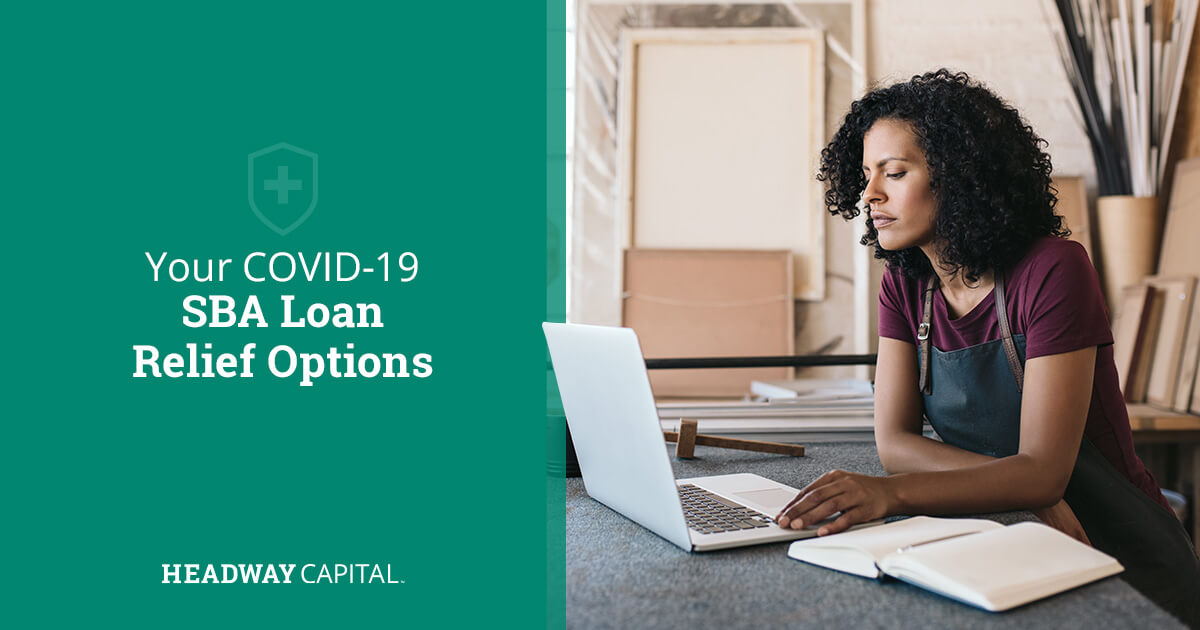 Coronavirus SBA Loans: What You Need to Know Right Now
Businesses across the globe have been struggling to find their new normal during the coronavirus outbreak. For more than half of U.S. small business owners, the new normal won't exist by Q3. In a recent survey conducted by Goldman Sachs, the economic strain caused by this pandemic has 51% of small business owners saying they will not be able to operate more than three months.1
While this outlook may seem grim, the recent passing of the Coronavirus Aid, Relief and Economic Security Act (CARES) may provide much needed relief to small business owners. The CARES Act allocated $377 billion of relief specifically for small business owners through SBA loans. Those funds are shared among three programs that provide loans, loan deferral and forgivable grants/loans.
What is an SBA loan? And how do you use it to access the benefits of the CARES Act? We'll review the basics of SBA loans and shine some light on the two main types of SBA loans available to small business owners impacted by the coronavirus.
What is an SBA Loan?
The Small Business Administration (SBA) is a federal agency aiming to help Americans start, build and grow their small businesses. SBA 7(a) loans are not actually funded by the SBA directly — they're issued by participating lenders (usually banks) and guaranteed by the SBA. The SBA 7(a) loan can be used to cover a wide variety of costs for your small business, including, but not limited to:
Land
Equipment
Construction costs
Refinance debt
Old businesses
Furniture
Supplies/materials
Why would I want an SBA loan?
Having the SBA guarantee your loan means flexible terms and low interest rates for you as a small business owner. The terms and rates are usually some of the best you can get. Loan terms vary based on how you plan to use the money (e.g. working capital is seven years where a real estate purchase is up to 25 years), but generally speaking SBA loans are more manageable for lendees than other types of financing.
SBA Loans + CARES Act
Under the CARES Act, there are a few relief options, including two types of SBA disaster loans: the Paycheck Protection Program (PPP) and the Economic Injury Disaster Loan Program (EIDL). We'll dive into the details so you can decide which option is best for you. But first, here's what new and existing SBA borrowers need to know:
What New and Existing SBA Borrowers Need to Know
Businesses who close an SBA loan within six months of the CARES Act will have their first six months of payments covered, including principal, interest and fees.
You may be required to file additional documentation to qualify. Since terms vary by each business, contact the SBA directly for more information.
What Existing SBA Borrowers Need to Know
SBA borrowers whose loans were in liquidation when the CARES Act was enacted are not eligible.
Small business owners approved for deferments will start receiving their deferments after the six months of payment relief.
Economic Injury Disaster Loans (EIDL)
EIDL loans are low-interest working capital financing for small businesses suffering substantial economic loss as a result of the COVID-19 pandemic. This program includes the opportunity to apply for a $10,000 grant, which does not need to be repaid. The rest of the EIDL is not forgivable, but the list of expenses covered is broader than what a Paid Protection Program (PPP) loan covers. EIDL can be used for things like rent or mortgage payments, salaries, workers' paid leave and operational needs.
Here's some more quick facts about EIDL:
Loans up to $2 million
Funds must be used to pay fixed debts, payroll, accounts payable and other bills that cannot be paid due to COVID-19
Interest rates of 3.75% for businesses and 2.75% for non-profits
Terms of up to 30 years, based on repayment ability
In order to qualify for an EIDL, the following must be true:
You must have been operational on January 31, 2020.
Have 500 or fewer employees
Be either a tribal businesses, cooperatives and employee-owned businesses.
If you'd like to apply for an EIDL loan and $10,000 grant, you can apply directly on the SBA website.
Payment Protection Program (PPP) 
The PPP is intended to guarantee businesses the loans they need to cover approximately eight weeks of payroll. That also includes some utility and rent costs. If by June 30 you have kept employees on the payroll or are able to rehire them, your PPP loan may be fully forgiven with the right documentation.
Quick facts about PPP:
Employers may request a loan amount up to 2.5x their average monthly payroll (up to $10 million)
Funds are to be used for salaries up to $100,000 per position, payroll taxes, interest portion of mortgage payments, rent and utility payments
Fixed interest rate of 0.5%
2-year terms with no pre-payment penalties
The first six months of payments will be deferred
In order to qualify for the PPP, the following must be true:
You must have been operational on February 15, 2020 with employees for whom you were paying salaries and payroll taxes, or paying an independent contractor
Have no more than 500 employees. Businesses with multiple physical locations qualify so long as the total combined employees are below 500, unless the business operates under NAICS code 72 (hospitality/restaurants), or if your business is a franchise on the SBA's Franchise Directory, or if your business receives financing through the SBIC program.
Is either an S-Corp, C-Corp, LLC, Partnership, Sole-proprietorship, Independent Contractor, Self Employed Individual, 501(c)(3) Nonprofit, 501(c)(19) Veteran's org, or a Tribal Business Concern.
If you'd like to apply for the PPP loan, you can call your current bank or lending source directly. The application went live on the SBA site on April 3.
Should I Apply for an EIDL or to the PPP?
There is no clear-cut answer, as this will vary business to business. Multiple experts have said there's no harm in applying to both if you do qualify as long as you don't use the loans for the same purpose. For example, you could not use an EIDL loan to pay employees their March paycheck if you have already used a PPP loan to do that.
If you happen to qualify for both an EIDL and a PPP loan, consider the following questions to help you decide:
What is my top concern for financial relief right now?

If it's payroll, a PPP loan may be your best choice given the option for loan forgiveness. If it's rent or mortgage, the $10,000 grant from the EIDL may be a better choice.

What other loans do I currently have and what are their use restrictions?

Consider what gaps you have and which SBA disaster loan would best address those needs.

Whenever things go back to normal, will I need the whole loan forgiven and move on, or do I immediately need a large source of low interest relief that comes with continued support over the next several years.
For the most up-to-date information on the CARES Act and the SBA relief program, visit the SBA website.
References
1 La Roche, Julia. (2020). Survey: Many small businesses don't expect to survive long as coronavirus wallops economy.
The information in this article is provided for education and informational purposes only, without any express or implied warranty of any kind, including warranties of accuracy, completeness or fitness for any particular purpose. The information in this article is not intended to be and does not constitute financial or any other advice. The information in this article is general in nature and is not specific to you the user or anyone else. For the most current CARES Act information as it relates to your small business relief, contact the Small Business Administration, a SBA-certified lender or qualified legal counsel.