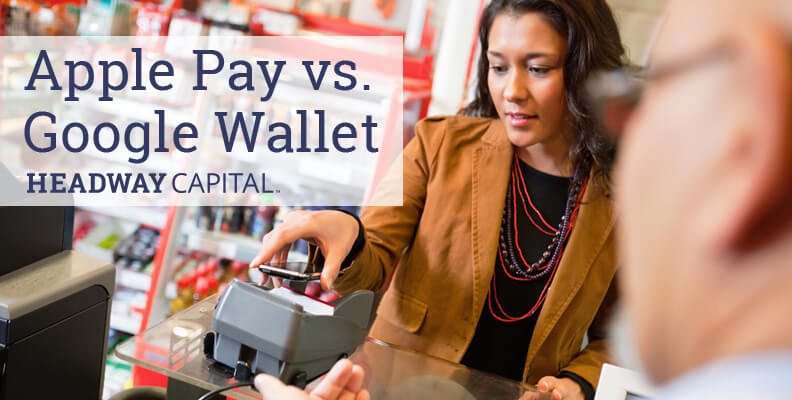 Mobile Wallet: What's The Difference in Apps?
Paying for items with a debit or credit card is so 2013. Purchasing items with your smartphone is the future of paying on the go and is only one tap away. This technology can be attributed to Apple and Google and their virtual wallet services: Apple Pay and Google Wallet.
In 2015, mobile payments are predicted to explode. So what is the best solution for you and your business? Here is a breakdown of their distinct differences:
Apple Pay1
What is Apple Pay?
Apple Pay is a contactless payment technology with security features that you can use to pay in stores or within apps linked to your debit or credit card. You can access Apple Pay through Passbook – an app pre-installed on all Apple mobile products.
What Device Do You Need?
 On the following devices you can use Apple Pay to pay with a touch within apps:
iPhone 5, 5c and 5s, iOS 8
iPhone 6, iOS 8
iPad Air 2, iOS 8
iPad mini 3, iOS 8
Apple Watch (Early 2015)
Set-Up
 In order to use Apple Pay on your devices, it requires a simple set-up:
Open the Passbook app and choose "Set up Apple Pay."
A screen will prompt you to add a debit or credit card or use your card on file.
If you add a new card, you will be required to add more information.
You can scan the details of the card and it's ready to use.
How Do You Use It?
Apple announced that 1 million people signed up for Apple Pay in the first 72 hours it was available and it is reported to be significantly easier to use than Google Wallet. To make purchases, all you need to do is tap to pay, use your finger on your Touch ID and you will be all set.
To view where Apple Pay is currently accepted, visit Apple's website here: http://www.apple.com/apple-pay/
Google Wallet2
What is Google Wallet?
Google Wallet makes it easy to pay in stores or online using your Gmail address, which is linked to your debit or credit card.
What Device Do You Need?
Google Wallet app is available to US users on the following devices:
Android 2.3 (Gingerbread) or higher
iOS 6 or higher
Evo 4G LTE
Nexus 7
Set-Up
To begin using Google Wallet, you will need to complete the following steps:
Open the Wallet app.
Create a pin and verify your ID.
Link bank account and verify your card.
Set up tap to pay.
How Do You Use It?
Google Wallet has been around for a number of years for Android users but has not caught on at the rate Apple Pay has. Google Wallet is a bit more complicated to set up and use than Apple Pay. It requires you to wake your phone, open the app, choose the credit or debit card you would like to use and enter your Google Wallet pin.
To view where Google Wallet is accepted, view Google's website here: https://www.google.com/wallet/shop-in-stores/
References
1 Apple.com. (2014). Apple pay. Retrieved December 1, 2014 from http://www.apple.com/apple-pay/
2 Google.com. (2014). Google wallet. Retrieved December 1, 2014 from https://www.google.com/wallet/