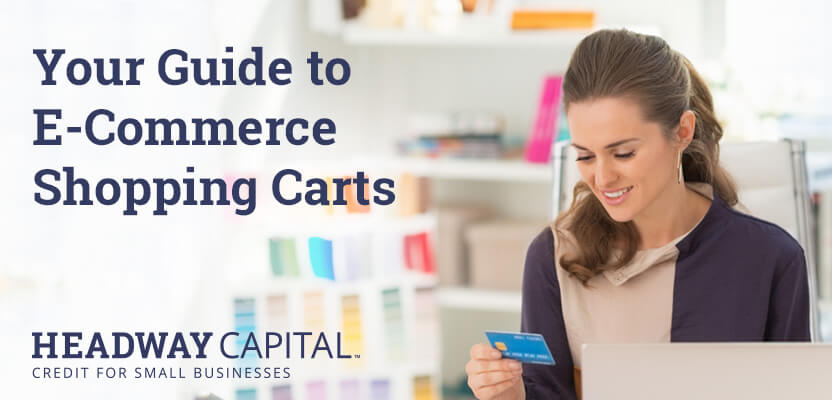 Cybersecurity Series: E-commerce Shopping Carts
From back-end to front-end, floor to ceiling, you spend time thinking about the different facets of your business. When considering how your business interacts with your customers, one of your main thoughts should be: "If I get to the point where my business is growing exponentially, will I be able to keep up with demand?"
That's where your e-commerce shopping cart comes in handy. It's the software platform that hosts your store digitally. Imagine having a lemonade stand and being able to pick which street you'll be selling on. Even if you have the best lemonade stand in the industry, you'll sell nothing on a dead street. That's the kind of decision you'll soon make with your store.
The problem with many businesses is that they don't have the right back-end software to support their storefront. And the businesses that should have been profitable end up being lost in the financial ether. So how do you prevent this from happening to your business?
Ask yourself the necessary questions:
Are you comfortable with code or do you know someone who is?
If you want a crisp, clean and personalized experience, you need a coder to help you fine-tune your shopping cart experience. What happens in an emergency where your software goes down or has a glitch that leads to angry customers? How do you deal with that without a coder? If you do have a coder, do they know MySQL, PostgreSQL or Oracle? What programming skills do they have? Make sure the coder knows the language of your e-commerce shopping cart.
Know your audience
What are the needs and wants of your customers? Some customers simply don't want cumbersome checkouts. Make sure the shopping cart has different checkout options: quick checkout, preferred member checkout, regular member, etc. Also be sure you pick a shopping cart that has multiple language options. Your customers may not speak the same language, but still might want your products. Make sure your shopping cart can accommodate your audience throughout the process of buying.
How much will you utilize statistics?
You can base your online web page design, layout, copy, experience — everything — on sales and statistics. Use sales as a dependent variable measured against all the independent variables of your business to isolate changes that need to be made. Will you have the capability to measure those statistics on your site? Maybe making the font bigger or the sidebar smaller will result in increased sales. You'll only know by utilizing statistics and data.
Is everything up to date?
Is the service up to date? If you search for the top ten e-commerce shopping carts from 2010, you'll notice they're very different from the top ten in 2014. Do you plan for demand to grow over the next four years? What happens if it does, but your software and support doesn't grow proportionally? Keep updated and you'll never have to find out.
Is it flexible?
Can you only sell physical goods? Or can you sell both online and physically? Will your shopping cart software be able to adapt quickly if there's a new medium of transactions? Bitcoin is an example of a growing source of currency, and it's probably not going to be the last.1 Is your e-commerce shopping cart open to this kind of change?
Is it secure?
You're storing a lot of valuable data that costs a lot of money. You don't want to risk losing that data. This is a no tolerance rule. Do not trade out security for something else. Make sure your business is protected from hackers, glitches, fraud, etc. Even a few minutes of downtime can trip up your business. The Payment Card Industry Data Security Standard (PCI DSS) is an information security standard for organizations that handle credit and debit information. If the shopping cart you're looking at is not PCI DSS-compliant, you should think twice before using it.
Who are the big fish?
The big fish are the ones who are transparent, user-friendly, and host a large variety of features and benefits. The nuances of particular shopping cart software can often be found in the user review sections of websites that allow comments. Search for those — they'll give you non-biased information. Deviate from untrustworthy sites that hide post dates or other crucial information. Shady reviews should be read with a grain of salt. Watch out for ancillary websites backing e-commerce shopping carts without user reviews. You'll often find that a 10/10 rated shopping cart will have a host of bad reviews beneath all the ostensibly impeccable features. Again, choosing the wrong shopping cart software can bring down your business, even if you're doing everything else right. Do your own research to find the right fit, but keep these questions in mind to steer yourself in the right direction.
BigCommerce
Bigcommerce has grown exponentially in the last few years, so they still have a few growing pains.2 They are helpful, have less hidden fees and are still improving.3 They're also acquiring more customers, meaning they may have less time for customer service. The upside is that you shouldn't need any customer service if they provide you with an intuitive platform. Additionally, BigCommerce doesn't make you pay transaction or bandwidth fees.3
Shopify
You'll usually see Shopify near the top of the list along with BigCommerce. Shopify has less overall tools than BigCommerce, but it still has the functionality you need to run a crisp and clean shopping cart. There are nearly double the people paying to use Shopify as BigCommerce.2 The numbers tell us an interesting story. And if that user base has a good public forum to use for troubleshooting, you have a drastically reduced need for customer service. Shopify therefore seems to be well suited for small businesses.
Magento
The first thing you need to know about Magento is that it's open source. That means you're going to need that coder. While that means your shopping cart is going to take a lot of complex work to get just right, it also means you have added customizability — you can make it perfect. It's got more options, languages, currencies, extensions and apps than hosted sites. It also has a huge community of developers and extension companies.4
Conclusion
You're busy. You don't have much time to do research. And you may not have the money to pay someone to build the perfect shopping cart for you. But you're still going to have to do some searching. Keep these tips in mind and check out the big dogs. Then make an informed decision. And always have a plan B. Plan B is a community member who is willing to work with you, a friend who knows what he/she is doing, or someone who is actually paid to manage an e-commerce shopping cart.
References
1Bitcoin – Open source P2P money. (n.d.). Retrieved September 5, 2014, from https://bitcoin.org/
2Wong, J. (2014, August 19). Bigcommerce vs Shopify | Which one grows your business? Retrieved September 5, 2014, from http://www.websitebuilderexpert.com/bigcommerce-vs-shopify/
3Bigcommerce pricing | More features with no hidden fees | Bigcommerce. (n.d.). Retrieved September 5, 2014, from https://www.bigcommerce.com/pricing/
4Magento ecommerce features. (n.d.). Retrieved September 5, 2014, from http://www.capacitywebsolutions.com/magento-ecommerce-features.html