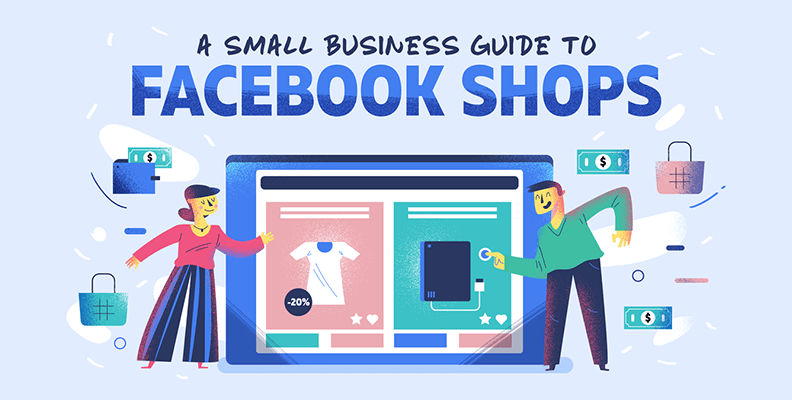 How to Sell on Facebook Shops: The Small Business Guide
The retail frontier is ever-changing. The physical shopping district is so out of fashion it's come back into fashion. Meanwhile, Facebook has made every website except Facebook even more obsolete by launching Facebook Shops, a virtual shopping district where store space is free.
Like everything else 'Facebook,' the idea is to connect people. In this case, to products rather than to each other. Not only can Facebook users leap directly from their feed to your checkout, but they can connect with you and your virtual shop clerks through WhatsApp, Messenger, or direct message. Soon, Facebook promises, users will be able to purchase directly through those apps, too.
The clear advantage to any small business selling through Facebook Shops is that your wares are immediately accessible right where the world's conversations are taking place.
The Advantages of Facebook Shops
Three-quarters (74%) of Facebook users check in daily. The same percentage are considered "high-income earners," meaning they have a $75,000+ salary. In other words, people have time and money to burn on Facebook. And while the platform has become noisy, it is the one place you can get your product in front of an audience of 2.6 billion consumers.
Sure, Facebook Shops shouldn't be your business's only outlet. But there are very few retail businesses that won't benefit from opening an additional store on Zuckerberg Street.
You might launch your Facebook Shop:
As a launchpad to get your business's online presence up and running;
As an additional shop window for your fast-expanding empire;
As a reliable access point in the context of ever-changing social-distancing rules;
To capitalize on the follower numbers of your existing Facebook Page or Instagram profile;
To maintain the ubiquity of a widely established retail business.
If you're experiencing downtime right now, it's the perfect opportunity to set up your Facebook Shop. And if business is booming, now's an excellent moment to capitalize with a Facebook Shop.
Getting Set-up with Facebook Shops
The Facebook Shops interface is as simple for users as you would expect from a Facebook product. "Businesses can choose the products they want to feature from their catalog," we're told, "and then customize the look and feel of their shop with a cover image and accent colors that showcase their brand." But, for serious retailers, establishing and maintaining the shop takes a bit more work.
However, the extra workload reflects the power of Facebook Shops: this isn't eBay, it's a professional retail platform intended for small businesses and major brands alike. To help you harness that power, we've created a new walk-through guide to selling on Facebook Shops.
For example, one of the key professional tools of Facebook Shops is the Commerce Manager. Indeed, you'll need to establish who you are (and how you want to get paid!) by setting up your Commerce Manager account with your address, business, and banking details. This is where you'll handle orders and complaints, and you'll need a Business Account Manager account to get started. You'll also need to learn the Catalog Manager, which is the place to set up your inventory and connect your items to Facebook Ads.
Our guide walks you through the technicalities. But you'll want to keep it bookmarked, because it's also full of useful advice on how to not just survive but excel as a Facebook Shop manager as your business soars to success.

Sources
Statista. (2020). Number of monthly active Facebook users worldwide as of 1st quarter 2020. statista.com
Facebook. (2020). Our mission. facebook.com
Kleiner Perkins. (2018). Internet Trends 2018. kleinerperkins.com
Danziger, P.N. (2015). Declaration of Independents: A State of the Independent Specialty Retail Industry Report. unitymarketingonline.com
Danziger, P.N. (2020). Facebook Shops Opens For Small Businesses: Is It An Answer To Prayer Or Too Good To Be True? forbes.com
Facebook. (2020). Create a Facebook Page shop. facebook.com
Facebook. (2020). How do I change my Page's template on Facebook? facebook.com
Facebook. (2020). Start setting up your shop. facebook.com
Facebook. (2020). Create a Business Manager. facebook.com
Facebook. (2020). How to Sell on Facebook and Instagram. facebook.com
Facebook. (2020). Link business accounts in Commerce Manager. facebook.com
Facebook. (2020). Set delivery and return preferences in Commerce Manager. facebook.com
Facebook. (2020). Set up payouts in Commerce Manager. facebook.com
Facebook. (2020). Update bank info in Commerce Manager. facebook.com
Facebook for Developers. (2020). Getting Started. facebook.com
Facebook. (2020). Add catalogue items manually. facebook.com
Facebook. (2020). How to customise your shop. facebook.com
Facebook. (2020). Creative tips for your shop. facebook.com
Statista. (2020). Device usage of Facebook users worldwide as of April 2020. statista.com
Facebook. (2020). Troubleshoot product approvals. facebook.com
Facebook. (2020). Find and manage orders in Commerce Manager. facebook.com
Facebook. (2020). Refund orders in Commerce Manager. facebook.com
Facebook. (2020). Create a collection ad. facebook.com
Facebook. (2020). Make it easy for people to browse your products. facebook.com
Facebook. (2020). Choose products to show in a collection ad. facebook.com
Facebook. (2020). Understand shop insights in Commerce Manager. facebook.com
Facebook. (2020). How customer feedback about low-quality purchase experiences can affect your ad performance and ability to run ads. facebook.com
Facebook. (2020). Commerce best practices. facebook.com
Embed This Image On Your Site (copy code below):