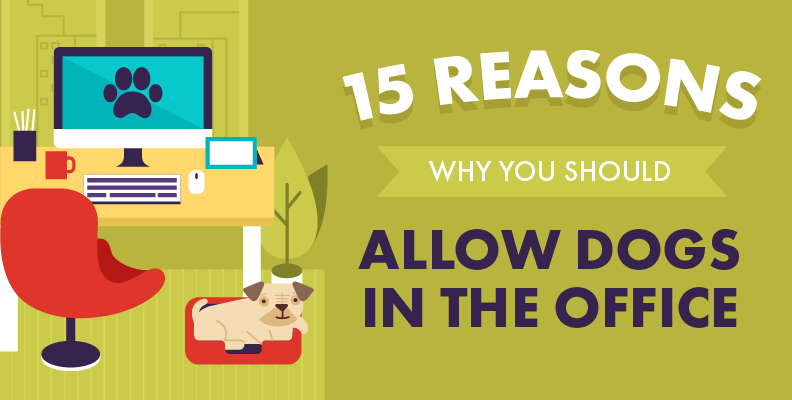 15 Reasons Why You Should Allow Dogs in the Office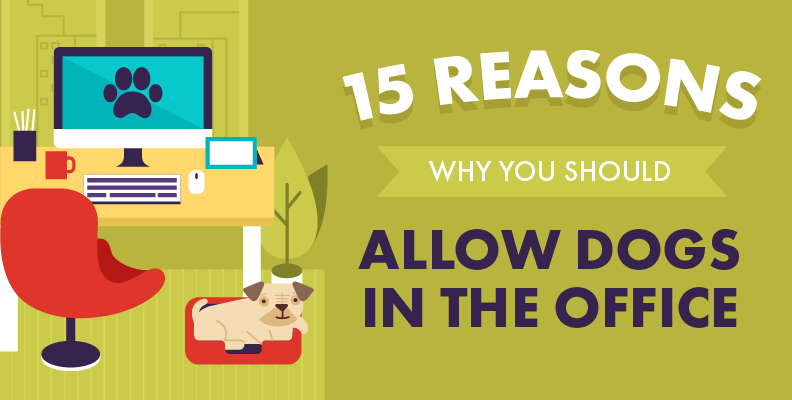 Dogs are the best. If you share your home with one, then it probably breaks both of your hearts each time you leave the house to go to work. Dogs make our lives a million times better — so why shouldn't you take your dog to the office?
Unless you're a shepherd, a customs officer or you have a guide dog to help you get around, you have probably not considered taking your pet to work. But even if your dog isn't a professional, they may be a valuable asset to your workplace.
Having a dog around has been proven to help build trust and a sense of community within teams. In case your boss still isn't convinced, workplace dogs can also boost productivity. By reducing stress and encouraging more wholesome break periods, the presence of a dog can really give you some perspective — freeing your mind to be calm and creative.
Our new infographic highlights 15 great reasons why you should take your dog to work. Backed up by research, you'll be ready to talk your boss into making the office a pooch-friendly environment.
A dog isn't just for home time. Take them to work, and both of you will enjoy a more fulfilling day!

Sources
Barker, Randolph (2012). Preliminary investigation of employee's dog presence on stress and organizational perceptions. emeraldinsight.com
Smith, Jordan (2014). Why You Should Be Pro Puppy in the Workplace (Hint: Cuteness Isn't the Only Factor). inc.com.
Biro, Meghan (2017). Who Let The Dogs In? The Benefits Of Allowing Pets In The Workplace. talentculture.com.
McDermott, John (2012). Study: Office Dogs Reduce Work-Related Stress. inc.com.
Centers for Disease Control and Prevention (2014). Health Benefits of Pets. cdc.gov.
Alusheff, Alex (2012). Canine Coworkers. siop.org.
Banfield Pet Hospital (2016). Pet-friendly workplace PAWrometer. banfield.com
Popick, Janine (2013). Is Your Business Going to the Dogs? inc.com.
Wilkin, Christa (2016). Who let the dogs in? A look at pet-friendly workplaces. emeraldinsight.com.
Schiff, Jennifer (2015). 14 rules for creating a bring-your-dog-to-work policy. cio.com.
Weiss-Roessler, J. (2016). Dogs with jobs. cesarsway.com
The Economist (2010). Manager's best friend. economist.com
Pay, A. Small changes to boost workplace productivity every day. telegraph.co.uk
Embed This Image On Your Site (copy code below):