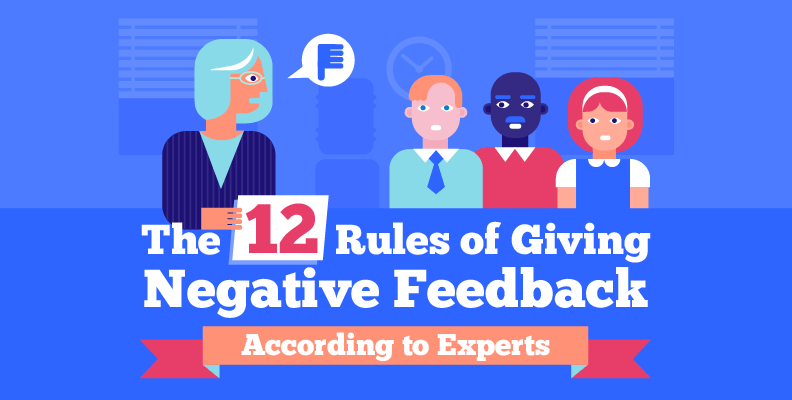 The 12 Rules of Giving Negative Feedback (According to Experts)
Giving feedback is a sensitive issue. If you see a colleague struggling, your instinct is to help them improve. But if you've got nothing positive to say, you risk hurting somebody's feelings. How can you let your teammates know they could be doing better work?
With a change of attitude, the feedback process can become a positive force within your team. It is all about creating a culture of feedback and learning how to criticize effectively. For example, you might begin by organizing a pre-feedback meeting to discuss the importance of feedback and the best ways of giving and receiving it.
If you avoid giving feedback because you're worried it will go badly, try to look at it the other way around. Start thinking in advance about how you can make the most of a tricky situation: It is widely believed that conflict can be good for your business. If your feedback is professional and your attitude is open, healthy debate will lead to stronger and better outcomes.
Figuring out the best way to give negative feedback is a good start. Our new infographic provides 12 essential do's and don'ts for the feedback process to help you avoid any pitfalls. Share it with your team, and you will be on the same page the next time a difficult discussion is needed.
Remember, you give negative feedback because you care. Try to introduce the subject to those around you, and you should start to see the quality of work improve over time.

As a small business owner, you might need a small business loan to make up for an error, underperforming employee or something else entirely, but you have options for fast funding.
Sources
Grant Halvorson, H. (2013). Sometimes, Negative Feedback Is Best.psychologytoday.com
Schwarz, R. (2013). How Critizizing in Private Undermines Your Team.hbr.org
Knight, R. (2014). How to Give Your Team Feedback.hbr.org
Ashkenas, R. (2014). Stop Pretending You Can't Give Candid Feedback.hbr.org
Bregman, P. (2011). Don't Be Nice; Be Helpful.hbr.org
Phoel, C.M. (2009). Feedback That Works.hbr.org
Correll, S. (2016). Research: Vague Feedback Is Holding Women Back.hbr.org.
Schwarz, R. (2013) The "Sandwich Approach" Undermines Your Feedback.hbr.org
Petersen, D. (2014) Carole Robin: How to Create a Feedback-Rich Environment. gsb.stanford.edu
Roth, D. (2013). Supporting Healthy Conflict In The Workplace.forbes.com
Embed This Image On Your Site (copy code below):