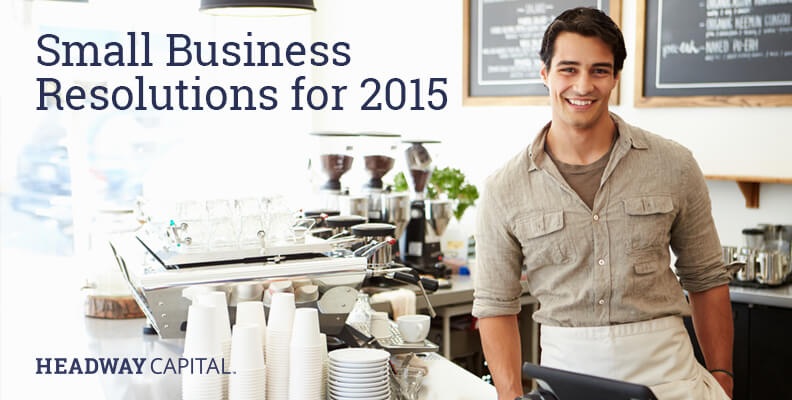 New Year's Resolutions for Small Business Owners
A new year and a fresh start for your business is just days away. Every January, 45 percent of American adults make at least one resolution to better themselves or their lifestyle.1 This upcoming 2015, instead of vowing to lose weight or eat better, make your New Year's resolutions about improving your business. Not sure what you should resolve to improve upon? Here are five small business resolutions for 2015:
Accept Mobile Payments
In our recent blog post we discussed the emerging mobile payment technologies: Apple Pay and Google Wallet. In 2015, that technology will be on the up. This means that your small business should adapt quickly as credit card payments make their way out. Digital payments can be confusing to those who aren't familiar with their process, so training your staff will be essential. If you own a retail space, you will need to provide sensors during checkout. Eliminating physical registers entirely is not yet an option, but updating your payment system to accept mobile payments is crucial.
Content Marketing Plan
Did you have a successful 2014 in terms of marketing? What worked well and what failed in your marketing efforts? 93 percent of marketers are currently using content marketing.2 To make strides in this new area, it is important to institute an editorial calendar to schedule and share content. However, be certain to not plan too far in advance and create a plan that can evolve as you exexcute. Pay close attention to what your audience responds to and what they stray away from. Your content should tell a story and should lead directly to leads and sales. In order to make sure this fresh process goes smoothly, consider bringing in an employee who shows interest in learning about marketing.
Get Acquainted with the Cloud
Along with mobile payments and content marketing, Cloud technology is also bubbling. The Cloud refers to a centralized location on the Internet that stores data, which is accessible at all times from any device.3 The primary benefits are reduced cost, easy access, flexibility and automation. If your business grows at a rapid pace, the Cloud can grow and change as your business does. This will save your business money because you will be saving using the Cloud as opposed to physical storage. If you own a business that requires sharing files and links, this will make maintenance and sharing simpler. If you do adopt the Cloud, make sure you backup your data and edit your privacy settings if you plan to share documents or links with employees.
Make Customer Service #1
Although this should be a priority every day of the year, acknowledging how much you appreciate your customers is important to long term loyalty. Customer service can make or break your relationships with customers. In 2015, take advantage of new technology like mobile payments and the Cloud to work more efficiently. Make it a resolution and a goal to become closer to customers and create more ways to engage with them like making strides to be more available on social media and checking review sites.
References
1 Norcross, J. (2014). Research: Staistics on New Year's resolutions. Retrieved December 1, 2014 from http://proactivechange.com/resolutions/statistics.htm
2 Hendricks, D. (6 January 2014). 4 New Year's resolutions your small business should keep this year. Retrieved December 1, 2014 from http://www.forbes.com/sites/drewhendricks/2014/01/06/4-new-years-resolutions-your-small-business-should-keep-this-year/
3 Gregory, A. (2014). 5 Ways to use the cloud in your small business. Retrieved December 1, 2014 from http://sbinformation.about.com/od/ecommerce/a/use-the-cloud-in-your-small-business.htm