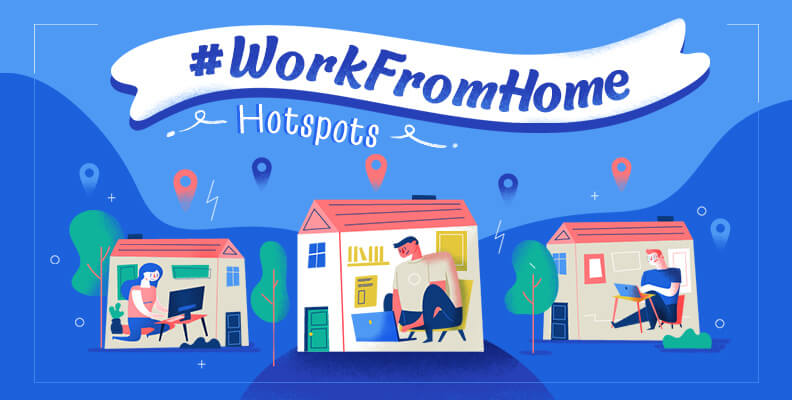 The Remote Work Capitals of the World
Remote working has been more and more popular since the turn of the millennium.  And since the COVID-19 pandemic hit, it seems like the whole world has been working from home.
It's not just a trend though, it looks like even when the pandemic is over, this way of working is here to stay.  A study by Buffer.com found that 99% of workers said they would like to work remotely at least some of the time for the rest of their careers. Some sources are even predicting that working from home will become the new norm in modern society, as more high-profile employers like JPMorgan, Amazon, Twitter and Google normalize remote workforces.
With so many people working from home these days, Instagram has become a place for people to connect with others, share their home working set-ups, and maybe grab some home office design inspiration while they're at it.
Currently, there are over 10 million posts tagged with #WorkFromHome. But how popular is home working where you live? We analyzed #WorkFromHome posts to find out which places around the world are home working hotspots.
To navigate our interactive map, zoom into an area of interest with your fingertips or mouse. You can hover over any of the home working hotspots to identify the place and the number of Instagram posts associated with the location. Take your time to explore, if you're currently working from home, there will be no one around to tell you to get back to work.
The 10 hottest spots around the world for working from home are: 
Jakarta
New York
London
Los Angeles
Mumbai
Delhi
Bangkok
Toronto
Bandung City
Surabaya City
Check out our interactive map to see where else is a #WorkFromHome hotspot.
Where Are The #WorkFromHome Hotspots Around The World?  
The top #WorkFromHome hotspot is Jakarta. That's pretty impressive, considering our research shows Jakartan workers' average Internet speed is 3.7 MBps (the average internet speed in the United States is 42.86 MBps). In a city already accustomed to working from home, COVID-19 is only inflating statistics like these, considering that President Joko Widodo recommended in March that all Indonesians work from home who are able to.
The rest of the top ten cities are some of the world's epicenters of population, commerce, and technology. Following Jakarta, the top ten list includes New York City, London, LA, Mumbai, Delhi, Bangkok, Toronto, Bandung City, and Surabaya City.
The top 3 countries in the world for home working are:
United States
Indonesia
India
And the top continents:
 Where Are The #WorkFromHome Hotspots In America?
The work-from-home hotspots in the United States are the country's most populous cities. New York City, Los Angeles, Chicago and Houston all share both the highest populations in America, as well as the highest number of hits for our list of hotspots. New York City is positioned well for remote working – internet speed in the Big Apple is listed at 46.2 MBps, higher than the national average, and the city of 8.4 million boasts about 5,400 coffee shops with free wi-fi and more than 260 dedicated co-working spaces.
Americans are pretty keen on working from home – according to one survey, 43 % of employed Americans spend at least some time working remotely. In fact, the job-posting website Indeed experienced a 385 % increase in job seekers looking for work-from-home opportunities in 2017.
Breaking down the data, the top cities for home working in America are:
New York
Los Angeles
Chicago
And the top states are: 
California
New York
Florida
Where Are The #WorkFromHome Hotspots In the UK?
And as with the US, the list of top cities is roughly comparable to the list of most populous cities in the country – six of the top ten UK hotspots for working from home are also in the top 10 most populated UK cities list. Top of the list is London, a city of 9 million, which accommodates its remote workers fairly well – the city includes 1,680 coffee houses with free wifi, along with 271 dedicated co-working spaces, each hosting on average 121 members and growing like wildfire (an 81 % increase from 2016-17).
The COVID-19 pandemic is only exacerbating the trend of remote working among the British. According to the UK's Office for National Statistics, 49.2 % of adults in employment were working from home as of April 2020.
Here are top UK cities for home working at home:
London
Manchester
Edinburgh
And the top regions are:
London
South East
North West
The Global Impact of COVID-19
As we processed the data for this research project, some of the effects of COVID-19 on remote workers likewise became apparent. In gathering information on hashtags related to working from home, many of them explicitly included keywords related to the global pandemic.
Some of the prominent hashtags, including how many hits they returned in our analysis, include:
#stayathome: 78,097
#socialdistancing: 47,275
#quarantine: 44,307
#covid19: 40,709
#staysafe: 38,839
#corona: 38,397
#coronavirus: 37,826
#covid_19: 32,096
#lockdown: 19,570
#covid: 13,517
#quarantinelife: 13,042
How Can You Stay Productive When Working from Home? 
If remote working is a new situation for you, staying productive can feel like a challenge. Don't be embarrassed – this can be difficult for even the most experienced remote work veterans. To help we compiled the following infographic to help keep you on-task the next time your pointer hovers over your social media browser windows, when it should be navigating to your work email.

Whether you've been a work-from-home warrior for decades, or if you're setting up your first home internet connection, you're not alone. Millions of people around the world work from home on a regular basis; hopefully some of these tips and data will help you make the most of your home office.
Methodology & Sources
To create this map, we extracted location data for over 500,000 Instagram posts tagged with #WorkFromHome. We then cleaned up the data and organized it by country, city, state, and region to create the interactive you see today. Data gathered in May 2020.
For the full research, visit bit.ly/WorkFromHomeHotspots
Hartmans, A. (2020). Google's productivity expert shares the 3 pieces of advice she's giving to employees working from home amid the coronavirus outbreak. businessinsider.com
Yaganova, Y. (2016). How To Find Your Most Productive Hours. trello.com
Reese, H. (2020). 6 productivity tips for staying on schedule when working from home. techrepublic.com
DesMarais, C. (2013). Get More Done: 18 Tips for Telecommuters. inc.com
Nieuwenhuis, M., Knight, C., Postmes, T., & Haslam, S. A. (2014). The relative benefits of green versus lean office space: Three field experiments. Journal of Experimental Psychology: Applied, 20(3), 199–214.
Boubekri M, Cheung I.N, Reid K.J, Wang C.H, Zee PC. (2014). Impact of windows and daylight exposure on overall health and sleep quality of office workers: a case-control pilot study. ncbi.nlm.nih.gov
Noguchi, Y. (2020). 8 Tips To Make Working From Home Work For You. npr.org
Owais, A. (2019).  How To Increase Bandwidth – List Of Do's And Don'ts. purevpn.com
CareerBuilder. (2015). New CareerBuilder Survey Reveals the Most Common and Strangest Productivity Killers at Work. careerbuilder.com
Glaveski, S. (2019). 10 Quick Tips for Avoiding Distractions at Work. hbr.org
Virgin Pulse. (2015). Labor of Love: What employees love about work & ways to keep the spark alive. virginpulse.com
Huhman, H.R. (2015). 4 Essentials for Setting Up Remote Workers to Succeed. entrepreneur.com
Opler, L. (2018). Your Brain on Exercise: The Neuroscience Behind a Good Workout. acefitness.org
Ellis, C. (2020). The best home workout apps 2020. techradar.com
The Jakarta Post. (2020). COVID-19: The twists and turns of working from home. Thejakartapost.com
Foertsch, C. (2018). Quick Facts about the UK's Coworking Spaces. deskmag.com
Embed This Image On Your Site (copy code below):