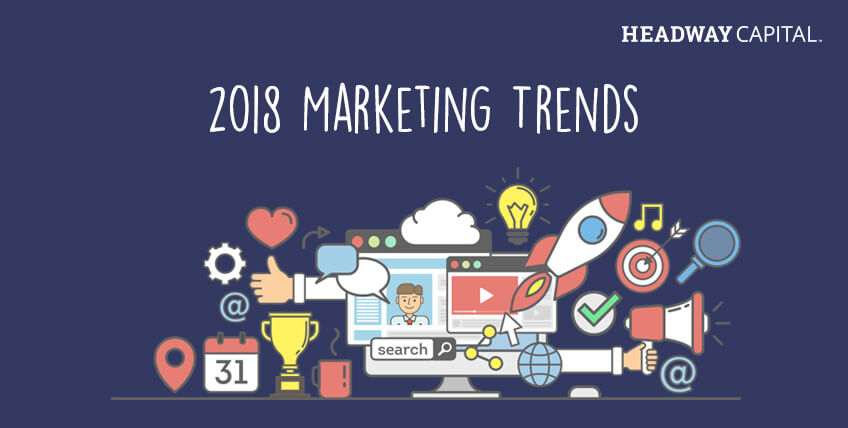 3 Marketing Trends to Look for in 2018
Marketing is an ever-changing field, shifting as consumers consume new media, find new ways to connect with businesses and each other, and adapt the ways they purchase. In recent years the pace of change has only accelerated, with entire paradigms rising and falling in the blink of an eye! So how can you and your business stay ahead of the curve? While no one knows for sure what the future holds, here are a few trends that are already set to shape marketing over the next 12 months.
The Rise of Chat Bots
Direct contact with customers is one of the key ways you ensure a good customer experience and create loyalty, but it's one that's easier for some businesses than others. If you aren't a brick-and-mortar retail store, for example, you might not get the chance to talk to customers face to face. And you may not have the resources to staff a full call center of helpful service agents. Technology is going a long way towards alleviating that problem, however. As algorithms and bots become more sophisticated, the difference between a human and a chat bot continues to shrink. It's estimated that 85% of customer interactions will be with chat bots by 2020.1 With improved technology, businesses big and small will able to ensure that these interactions are as good as (or better than!) interactions with humans.
Voice-Optimized Content
You likely know about SEO — search-engine-optimized — content, even if you don't actively make use of it yourself. And while traditional SEO will continue to be important, the rise of voice-based search, driven by devices like Google Home and Amazon Alexa, has started to change the game. Because people talk differently than they type, searches made vocally will differ from those entered into a field. Savvy companies have started tapping into that difference, tailoring their landing pages around questions people might ask instead of what they might type!
Mobile First
An ever growing number of consumers access the internet mostly or only through their mobile devices. If your web presence isn't optimized for mobile, you're creating a pain point for potential customers before they even get to your content! Additionally, the big search engines, led by Google, are keeping their eye on this trend as well, adjusting their algorithms to favor pages that cater to mobile usage. Whether you coded your webpages in house or use a third party platform, make sure you look into how to make your pages mobile-friendly over the coming months.
References
1Parry, R. (October 16, 2017). 10 marketing trends to think about for 2018. Retrieved December 1, 2017, from https://www.huffingtonpost.com/entry/10-marketing-trends-to-think-about-for-2018_us_5994b288e4b055243ea1357c