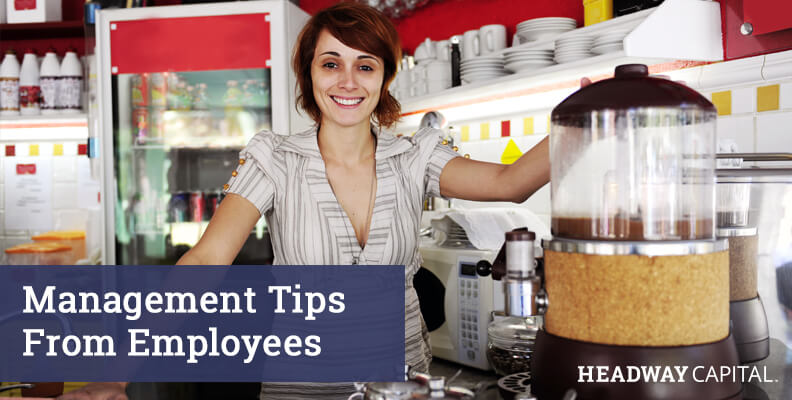 What Do Employees Want From Their Managers?
There are nearly 28 million small businesses in the United States and each month, 543,00 new businesses get started.1 These small businesses employ anywhere from 5 to 500 employees!1 That means, there are millions of small business owners at any given time learning how to manage their employees.
Small business owners are always looking for practical yet innovative ways to improve their company culture and overall management of their employees. But do you know exactly what your employees want?
What Do Small Business Employees Want?
Employees prefer managers who encourage development and care about their happiness. There are five qualities that small business employees desire most in their manager:2
63% want the ability to give honest feedback
58% want their manager to have experience in the field
37% want their manager to make time for their employees
36% want a collaborative manager
How Do Managers Fulfill These Requests?  
Good managers are critical to the overall success of small businesses. In your absence, they are the teachers, mentors and bridge to the overall vision of your company. So while many of the requests above can be easily granted, it will take some patience and managerial grooming. Here's what you can do to get them ready:
Managers should provide regular feedback to all employees, especially millennial employees. Have your team schedule weekly meetings with their staff just to check in and see how projects are going.
In order to recruit and retain great employees, managers should place great emphasis on encouraging employees' career development. Did you know 82% of the employees you manage have the desire to be managers themselves?2
Allow your personnel to lead (with slight supervision). For example, allow the younger members of your staff to train interns. This will give them a glimpse into the world of leadership and management.
Whenever possible, incorporate a collaborative element into your workflow. By having your employees work in teams, you encourage everyone (at all levels) to communicate and create.
Whether you're hiring managers, training your managers, or trying to become a better manager yourself, there is always room for improvement and growth. All you need to do is foster a collaborative workplace!
References
1SBA.gov. (September 2012). Frequently asked questions. Retrieved June 10, 2015 from https://www.sba.gov/sites/default/files/FAQ_Sept_2012.pdf
2Lesonsky, R. (18 December 2014). What do your employees want from their managers? Retrieved June 10, 2015 from http://smallbiztrends.com/2014/12/what-do-your-employees-want-from-managers.html