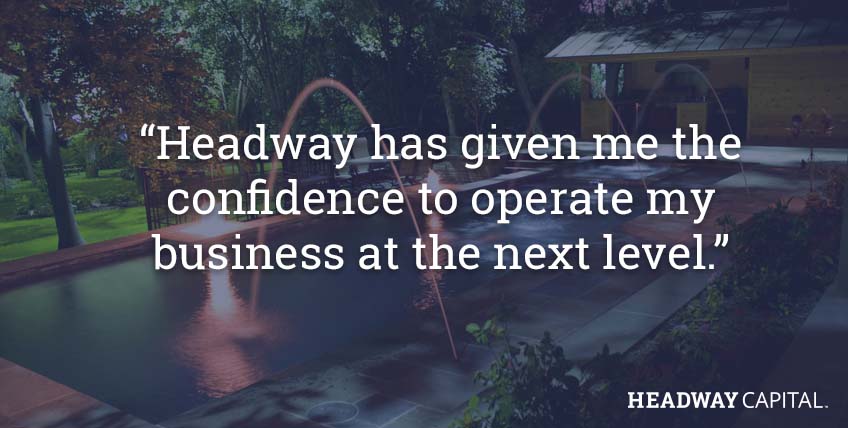 Customer Spotlight: Dana Clarke
Dana Clarke, Managing Partner at Luxury Lighting, knows that customization is important to customers. Luxury Lighting creates unique interior and exterior lighting schemes that have kept customers coming back. Their one-of-a-kind aesthetic has been honed over 20 years in both high-end commercial spaces and residential properties.
When Dana first started looking for funds, he started at a traditional bank. However, he quickly discovered that their process was slow and cumbersome. Plus, the representative he was working with didn't make him feel confident to move forward. Instead, Dana looked to Headway Capital to help establish what he calls "gap insurance" to help his small business. Read on to find out more about Dana's experience.
Our work is a very particular product. We're a full service design and build electrical firm specializing in landscape and architectural lighting for residential and commercial clients. There are a few obstacles we deal with regularly in such a special business. For example, when we need to light a tree, we need to find an electrician, but also one that can climb that tree — it's very rare and challenging to find. We work hard to accommodate the needs of our customers and provide them with an outstanding finished product.
Part of that positive customer experience we provide includes flexibility to meet their needs from the project's beginning until it is finished — that includes payment. Sometimes, our clients are on a 90-day payout structure and I know they'll get the funds to me by that time, but I needed something for that in-between period. As our business grows and we work with bigger organizations that have varying pay cycles ranging from 30 to 60 day payouts, it's important to have "gap insurance" for those windows in between.
After we decided that a bank loan could not sufficiently meet our needs, we did a search and happened upon Headway Capital. There were certain qualities I was looking for in a lender and Headway did a great job meeting or exceeding my expectations. I was looking for a lender that's accessible when I need to reach out, one that's flexible in case I need an increase in credit line, and someone who will look at why I need the funds and will give me fair consideration rather than saying no right away. The Headway Capital advisor was attentive and helpful. The process itself was also great! I was pleased with how easy it was overall and how I received a call shortly after applying to let me know I had been approved for the amount I needed.
Headway has given me the confidence to operate my business at the next level. There are other ways I'm looking to expand to take that even further. I may need to add a vehicle with a lift, and when that time comes, it's definitely something I would want to work with Headway Capital on.