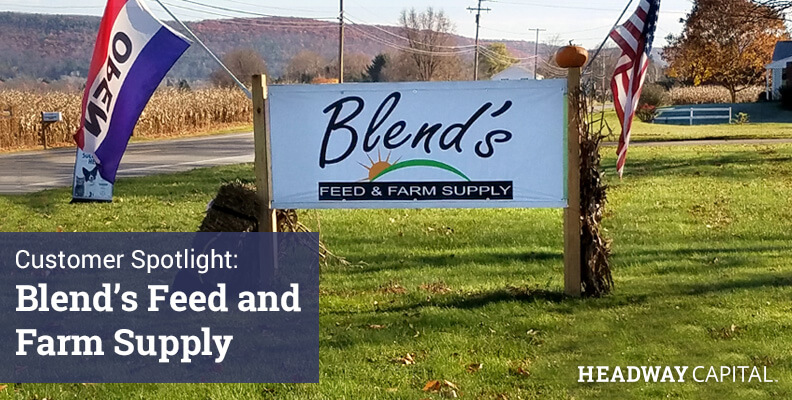 Customer Spotlight: Blends Feed and Farm Supply
Morgan Blend, owner of Blends Feed and Farm Supply and a Headway Capital customer, is the definition of hard work. We had a chance to talk with Morgan about her journey from an employee to the owner of the very same retail feed store. Here's her story:
I worked at this small feed store while I started my first year of college. I made many observations during that time and saw how the store could really get to the next level. I let the owner know that if she ever sold the store, I could buy it. It all happened much sooner than I expected — I bought the business on April 30, completed my first year of college on May 15 and opened the store on the 16th!
When I first started, I needed to borrow money from family, but we grew more quickly than I had anticipated. I knew I needed to look elsewhere, but I didn't really know how to look or where to start. I had gone to the bank, but they had told me that since I was a new business, I wasn't going to get the funding I needed from them anytime soon.
"They didn't want to take a risk on such a new business."
They recommended writing up a business plan and applying for a federal grant. I took their advice and started working on my business plan, but I also went back to college, so I am still working on that plan. I still needed money, and the other options available weren't quick. I had a lot on my plate — I have a two-year old, cows and horses, all relying on me. I didn't have the time needed to develop an entire business plan.
Luckily, I was making a purchase on an office supply website and an ad for Lendio came up. I thought to myself, "Let's see what happens." I filled out the information and got in contact with a representative who paired me with Headway Capital. I didn't think this could go anywhere, but I was pleasantly surprised by what happened next.
"They gave me a chance instead of seeing me as a risk and walking away."
Headway was willing to look at me, even though my business is young. I may be someone that doesn't have the best credit history and hasn't been in business very long, but they took the risk to help make this business something.
I used the funds to pay vendors, expand and make a cushion, just in case. Most importantly, I was able to increase my inventory. In the beginning, I would have customers that would come in with specific requests for products and I obliged. I wanted to continue expanding my customer base, but I needed the inventory to support it. The more people talk, the more customers I get. As my number of customers grew, the requests did as well — I needed to increase my inventory, and fast! My Headway Capital line of credit really helped with that. I saw a need in this area, and it was apparently even more than I thought — I've done almost $100,000 in sales in just the first six months I've been open!
Since taking over the feed store, I've really been able to make the changes I knew would help back when I was an employee. We supply feed for chinchillas, parrots, parakeets, cats, dogs, chickens, dairy cows, beef cows, pigs, horses and more. We also carry some farm equipment. Most importantly, we provide a family-oriented environment. Whether our customers come to our store from a dairy barn or from the office, everyone is able to feel comfortable here. Around Halloween, we'll use hay bails to make great photo opportunities. This year, we have Minions out front. The families love to stop and take pictures.
I live in a very small town that used to be a lot different from how it is now. The building I'm in currently actually used to be a hardware store over 10 years ago, but now that's all changed. Everyone wants to go to the big places instead of small businesses. I feel that the world was founded on these small "mom and pop shops" and think that tradition should continue; it will through my feed store.
I would tell anyone to start a small business as long as they pick something they know well, because that makes a difference. I love coming to work — this isn't "work," this is having fun.