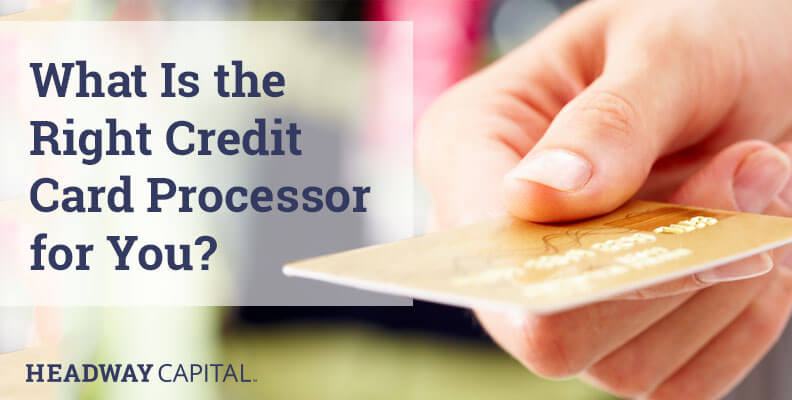 Choosing a Credit Card Processor
Accepting credit cards from your customers opens up a whole new world of flexibility and options for your business. As cash is slowly making its way out and plastic is quickly taking its place, choosing a credit card processor should be high on your priority list. But how do you choose the perfect merchant and reader for your business?
The Basics1
Selecting a credit card processor can be an overwhelming task; however, it is important to know what you should be looking for. When a customer pays with a credit card, there are four parties that work together to process the payment: the merchant bank, processors, issuing bank and card payment brand.
When it comes to selecting a credit card processor, the two main factors to consider are processing fees and building your company's credit. There is no shortage of credit card processors. So while doing your research, be mindful of the variety of rates and fees charged by each. Also, for the protection of your customers, look at the data security and fraud protection that each processor can offer. Lastly, inquire about the customer support you can receive in the instance of a problem or dispute regarding a transaction.
Top Credit Card Processing Choices2,3
Here are the top five credit card processors based on retail rates and customer satisfaction. The information below was pulled in August 2014; check these companies' respective websites for up-to-date information:
Flagship Merchant Services
Pro: Voted the number one merchant account provider for seven years in a row and used by over 100,000 businesses. Their rates start at 0.38% and they have a 98% applicant approval rate.
Con: Their service is only available for United States-based merchants.
CreditCardProcessing.com
Pro: They offer a month-to-month contract, free credit card reader and rates that start at 0.39%.
Con: This service is only available for United States residents.
Leaders Merchant Services  
Pro: They offer free start-up costs and within 24 hours of approval, your account can be set up.
Con: Low rates may not apply to debit cards issued by smaller banks.
National Bankcard
Pro: Their customer support is available 24/7. Upon approval, they provide you with free credit card terminals.
Con: Their services are only available in the United States.
Merchant Warehouse
Pro: They have a 99% approval rating and offer around-the-clock customer care.
Con: Their application process is slower than the average.
Top Mobile Credit Card Reader Apps4
Once you have selected the best possible credit card processor for your business, it is time to begin considering investing in a mobile credit card reader app. This will make on-the-go transactions more efficient as well as offer your customers more payment options. Here are the top five mobile credit card reader apps based on compatibility and use:
ROAMpay
This application has a 98% approval rate and works on all mobile devices including iPhone, Android, Blackberry and other iOS devices.
PayAnywhere
MasterCard, Visa, American Express and Discover are accepted on this reader with a low per-swipe rate. This application is free once you are approved and has no minimum monthly payment.
Square
Charging 2.75% per transaction, this reader is the one of the most popular and recognizable. It requires no contract and plugs into the audio jack of your mobile device. One downside is that it only works with iPhone and Android devices.
Intuit GoPayment
 This app has lower transaction fees. However, the card reader does have a $13 monthly fee.
PayPal Here
 PayPal is a trustworthy and well-known brand name in the electronic payment industry. Their reader only works with Apple and Android devices.
Choosing the right credit card processor is a tough decision and one that is unique to your business. In addition to mobile credit card readers, there are other options like point of sale terminals, simple swipers, PIN pad terminals and wireless terminals.5 These stationary credit card readers are ideal for storefront locations that deal directly with customers who physically swipe their credit cards at payment terminals. The primary benefit to this system is being able to offer customers additional security for fraud protection. The setback, however, is that the equipment necessary for a point of sale terminal is very expensive if purchased outright. One last thing to remember while shopping for the best merchant and reader: Don't let a quick solution take precedence over effective service.
References
1 Intuit. (2014). Credit card processing basics. Retrieved August 18, 2014, from http://quickbooks.intuit.com/credit-card-processing-for-small-business/
2 CreditCardProcessing.net. (2014, August 17). Our 2014 top 5 credit card processing picks. Retrieved August 18, 2014, from http://www.creditcardprocessing.net/
3 TopTenReviews.com. (2014, June 2). Credit card processing review. Retrieved August 25, 2014, from http://credit-card-processing-review.toptenreviews.com/
 4 BusinessBee. (2013, July). The 5 best mobile credit card reader apps for your small business. Retrieved August 18, 2014, fromhttp://www.businessbee.com/resources/profitability/point-of-sale/the-5-best-mobile-credit-card-reader-apps-for-your-small-business/
5 BusinessNewsDaily.com (2014, May 12). Accepting credit cards: a small business guide. Retrieved August 27, 2014 from http://www.businessnewsdaily.com/4394-accepting-credit-cards.html