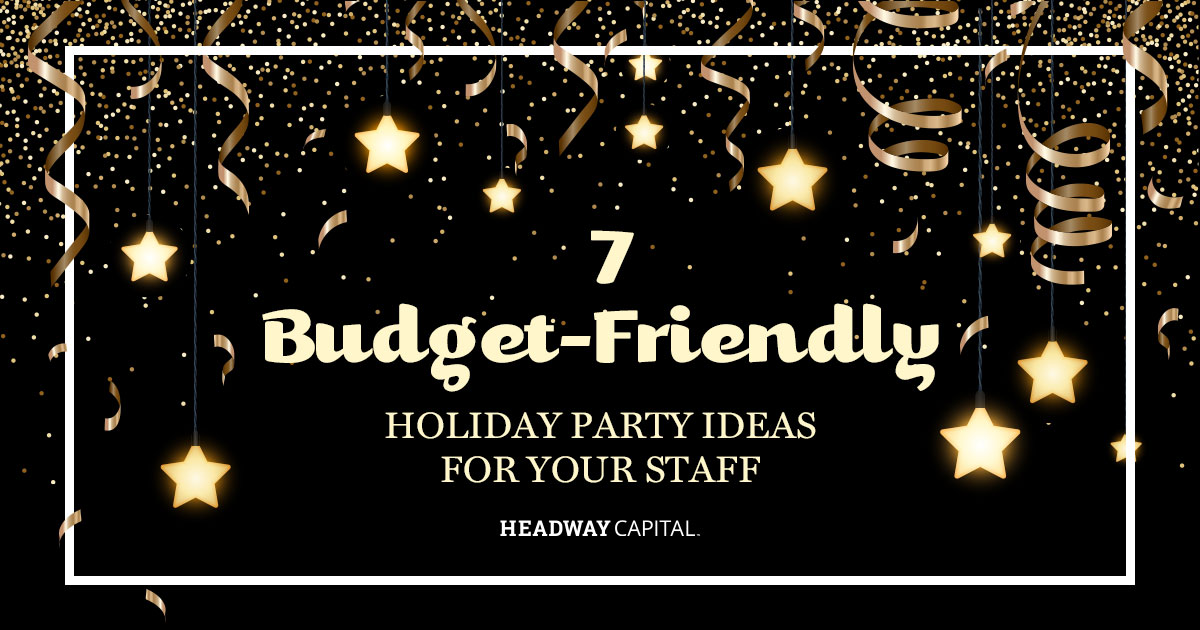 Affordable Company Outing Ideas for a Holiday Get-Together
Positive reinforcement plays an integral role in a company's culture and overall employee job satisfaction. With the holidays around the corner, it's naturally a perfect time to show gratitude for your staff in some way. Though a financial incentive is certainly a highly sought-after reward, and a great way to recognize individual employees, it doesn't help foster workplace community in the way that a social gathering would.
While an employee party may sound like a significant financial burden and/or time commitment from you, it can truly help your staff bond and restore a better work-life balance in one of the busiest times of the year.1 And with a company-wide celebration, employees at all levels have the opportunity to get facetime with people they normally wouldn't interact with in a normal day.
If you want to reward your staff with a holiday party but don't feel like you can afford an all-out gala, these more affordable alternatives can still make your employees feel appreciated, engaged and part of a team.
1. Rent a Hall and Bring Your Own Party
Take your party off-site to an inexpensive rental hall where you can decorate, plan and host your own gathering, big or small. With the freedom to bring your own drinks, food and entertainment, your holiday party can be as high- or low-stakes as you'd like. Bring a karaoke machine for outgoing groups or a few trendy board games for more introverted teams.
2. Take the Celebration Outside
If you're lucky enough to live in a temperate climate, take your holiday celebration to a local park for some fresh air and camaraderie. Pack a few outdoor games, sporting equipment, a playlist of fun music, plenty of food and a grill for a low-key party that can be arranged with next to no planning. An ice-skating rink is a festive alternative in colder climates, but make sure all employees are able to participate in the fun!
3. Head to an Improv or Comedy Class
Look for a local improv group to help your staff break out of a structured routine for a memorable team-building event. Live theater companies like Chicago's Second City host a variety of events, like professional development workshops, improv or comedy classes as well as special occasion outings that can cater to your company's needs. An interactive event is ideal for team building and collaboration, and the process can help your team think in new, creative ways.
4. Host a Talent Show
For particularly outgoing or creative groups, a talent show allows your staff to get involved firsthand and showcase their unique abilities you likely wouldn't know about otherwise. Since your staff assumes a lot of the planning and entertainment responsibilities, you can use some of your budget for prizes to help get them even more excited for the event!
5. Organize a Scavenger Hunt
Setting up a creative scavenger hunt in your office building or community is an exciting way to make your team work together and solve problems. You can create your own custom hunt with funny, company-specific trivia or use a scavenger hunt company to do the heavy lifting for you. Break up your staff into teams and create some friendly competition with a first-place prize.
6. Volunteer a Work Day
If your staff is party weary, a volunteer day at a local charity, school, shelter or community organization is an excellent (and free) way to give back to society while celebrating the season. Look for organizations that are large enough to host your whole team so that your staff can enjoy the experience together. With a volunteer day, your staff not only gets the opportunity to break out of the office, but your company can actually do something that makes a difference in your local community.
7. Hold Off and Host an Off-Season Party
Who says you have to observe a winter holiday? While you shouldn't wait for a specific event or day of the year to show appreciation and reward your employees, you can save a lot of money with a late- or off-season gathering. Look for off-season pricing at anything from restaurants and event halls to amusement parks, hotels, resorts and more. You may even have a better-attended party after the normal season since there are no major holidays in January, February or March.
Company parties don't need to be big, stuffy affairs in order to be successful and meaningful. There's no need to overthink or over-plan your get-together, but a fun party that your staff enjoys is well worth the time away from the normal work grind.
References
1Lonczak, H. (September 4, 2019). Positive reinforcement in the workplace (90 examples & reward ideas). Retrieved November 6, 2019, from https://positivepsychology.com/positive-reinforcement-workplace/#research