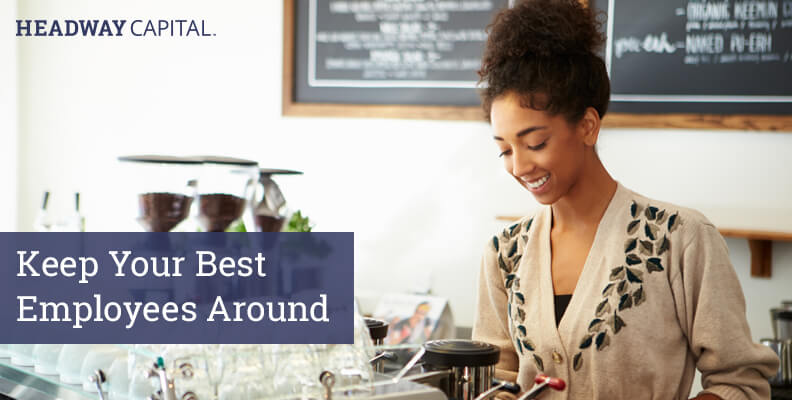 5 Ways to Improve Retention
As a small business owner, it's very important to retain your experienced employees: hiring and training new workers is time-intensive and expensive, sapping valuable resources from your company. According to a survey by Monster.com, as many as many as 59% of employees say that they are always keeping an eye out for a new job!1 That's why it's important to think of ways to improve retention at your company, keeping your best employees with you for as long as possible. Below, we've put together 5 ideas for boosting retention that any business can try.
1. Prioritize Perks
Though compensation is an important consideration when employees think about whether they'll stick around, salary isn't the end-all and be-all of retention. Benefits and perks that might not have much effect on a worker's finances can have a big impact on their satisfaction. Think about programs like dry cleaning pick-up and drop-off, or regular lunches on the company dime. Other simple lifestyle perks might include flexible hours and telecommuting options.
2. Recognize Good Work
Initiatives like employee of the month can be helpful in motivating workers, but there's much more you can do to make your employees feel appreciated. In a small business environment, it can be easy to forget to call out everyday excellence — encourage your employees to let you know when their colleagues go above and beyond, and personally reach out to high-achieving workers to offer your kudos.
3. Enable Involvement
Employees love being able to give back to the community through their company. Sponsoring community service days where everyone in your business volunteers for a good cause can build camaraderie and make your workers feel like they're making a difference. Similarly, matching employees' charitable donations up to a certain amount can simultaneously make them feel like they're making a difference and that their employer cares about making a change.
4. Encourage Ownership
When employees feel like they have a stake in their work and environment, they will be more engaged and less likely to leave. Ways to foster ownership can range from team brainstorming that gives everyone a say in a project's direction, to offering equity in the company after a certain number of years. If your space allows it, you can even give your workers the chance to design and decorate the office, making them feel like it's really their environment.
5. Keep Communication Open
Regular reviews can make sure everyone's on the same page about performance and satisfaction. These meetings give you an opportunity to gently correct negative behaviors before they become real problems while allowing workers the chance to bring up difficulties they have before they become really unhappy. Try to have these one-on-one meetings as often as possible — a weekly discussion can be off-the-cuff and honest; a yearly review will be formal and unfavorable to open dialogue.
References
1 Bennington, E. (n.d.). Employee retention: big company tactics for small businesses. Retrieved June 2, 2015, from http://hiring.monster.com/hr/hr-best-practices/workforce-management/employee-retention-strategies/employee-retention-tactics.aspx