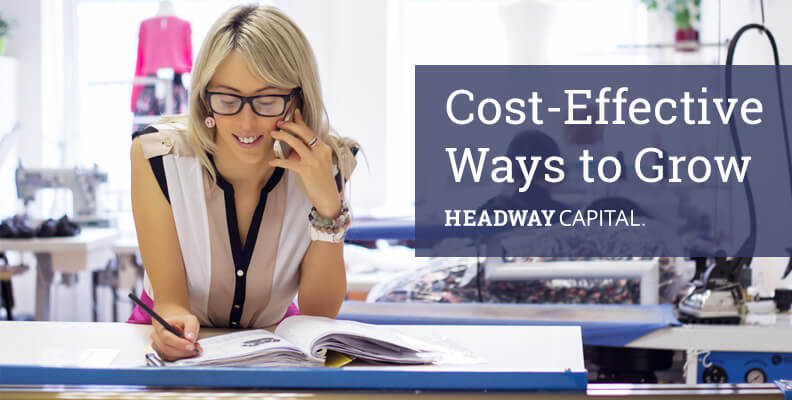 10 Low-Cost Tips to Improve Your Business
Running your small business brings plenty of challenges, not the least of which is finding ways to grow your business without emptying your pockets. That's why we've put together 10 great ideas for low-cost business improvements.
1. Focus on the Customer1
Sure, it may go without saying, but placing an emphasis on your customer should always be one of the key tenets for a small-business owner. Creating a product with the customer in mind won't cost you anything extra, and by building your product with a focus on the customer, you'll find that growing your customer base is that much easier!
2. Good Customer Service1
Nothing makes a customer feel as though they've chosen the right business like solid customer service. You don't have to bring on a phone bank or send a card for every birthday, but make it clear to your customers that you are engaged with them individually. Make your emails personal, do your best to deal with issues personally, and you'll gain a reputation as a business that cares.
3. Take Advantage of Apps2
Automation is handy where you can get it, and with a host of cheap or free apps available to help you streamline, there's no excuse for having too many balls in the air. Utilize apps like Fuze, Clear or Expensify to get rid of all that mind clutter.
4. Prioritize Your Sales Forces1
It's no secret that growing a business is oftentimes all about the sales team. Instead of getting as many bodies as you can, focus on the quality of the salespeople you hire. And don't be afraid of your own role as a salesperson, as ultimately, business partners and even customers want to get to know the individual overseeing the whole operation.
5. Look for Partnerships1
You can't do everything, and understanding the limits of your reach is a great way to create manageable growth and keep your overhead low. Be on the lookout for potential partners who can help you offer your customers something more, and for whom your partnership could be useful.
6. Concentrate on Business and Pleasure3
First things first: Pushing yourself and your team too hard will inevitably result in burnout. Past that, by creating events for your team to enjoy themselves, you can also build fantastic networking opportunities. Make it a joint business/customer event, and show your customers or potential partners that you can play as hard as you work.
7. Offer Specials4
It's a simple fact that creating a sense of opportunity and urgency can drive sales. While you shouldn't overdo it with the specials, customers appreciate the chance to save, and seeing the price of a product plummet for a day will certainly garner some interest.
8. Understand the Internet3
Efficiency and optimization have never been more possible than they are now, thanks to the way the Internet has utterly simplified so many processes. But you can't take advantage of this new era of efficiency if you aren't sure where to look. And the Internet isn't just a tool for streamlining your business, but for marketing as well. Social media may seem like fluff when you're facing deadlines and meetings and paying a workforce, but a business without an online presence is starting every new interaction with a deficit.
9. Utilize the Cloud1
Storage is paramount in the digital age, and with a solid trustworthy cloud service, you can get the storage you need, when you need it. Not only can you feel more secure in storing your key data, but utilizing the cloud makes it easier to scale upward as your business grows.
10. Consider a Line of Credit1
Building your credit is key for a small, burgeoning business, as is having ample funds. By securing a strong line of credit, you can do both at once. Find a bank or lender you feel you can trust, and make sure you understand all the details of the loan before committing to anything.
References
1Small Business Trends. (2014, March 17). 12 low cost ways to improve your business. Retrieved January 15, 2015 from http://smallbiztrends.com/2014/03/low-cost-ways-to-improve-your-business.html
2Armstrong, T. (2014, July 8). 20 apps for small business owners. Retrieved January 15, 2015 from http://www.nerdwallet.com/blog/small-business/20-apps-small-business-owners/
3Microsoft. (n.d.) 10 low cost ways to market your business. Retrieved January 15, 2015 from http://www.microsoft.com/en-us/business/articles/10-low-cost-ways-to-market-your-business
4Senter, S. (n.d.). 6 low-cost marketing strategies. Retrieved January 15, 2015 from http://www.businessknowhow.com/marketing/affordmark.htm