8 Reasons to Consider
Getting a Line of Credit
By Rieva Lesonsky, CEO of GrowBizMedia and SmallBizDaily.com
Are you determined to bootstrap your business and never, ever borrow money from anyone? While that attitude may sound admirable, such an approach to financial management can actually stunt your business's growth. I'm not advocating getting a business loan you don't need — but there are many situations where getting a line of credit can make a huge difference to your company's success.
If you're a seasonal business.
Seasonal businesses typically suffer from cash flow problems during their slow season. A business line of credit can remove the worry from your down period by providing a source of financing so you can pay vendors and employees or invest in your business infrastructure when the cash isn't flowing like it usually does.
If your customers take a long time to pay.
Let's face it: Some customers — big corporations, government clients — are just slow to pay. If you have clients who regularly take 90 days or more to pay you, a business line of credit can be a godsend when that check that's "in the mail" doesn't show up… again.
If you regularly buy inventory or materials.
Some businesses have to spend money long before they get paid. For instance, if you're a manufacturer, you have to buy materials to make your products, and pay employees to make them. But making them, selling them, shipping them and then getting paid could take months. A line of credit can provide working capital so you can purchase what you need when you need it.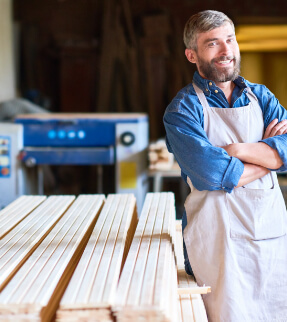 If you don't want to put up collateral.
Secured business loans typically require putting up collateral, such as assets or equipment. If you don't like the idea of putting your possessions on the line, an unsecured line of credit could be the solution you're looking for. This type of credit line generally requires certain minimum income or time in business but has much less stringent approval requirements than a loan. One thing to note: Unsecured lines of credit may have higher interest rates than secured lines of credit do.
If you want financial flexibility.
If you get a $100,000 business loan, pay it back and want to borrow another $100,000, you've got to start all over again with a loan application. Not so with a business line of credit. Similar to a credit card, a business line of credit is a revolving line of credit that you can use over and over again. Here's how it works: If you get a business credit line for $10,000 and borrow $10,000, you're maxed out and can't draw down any more money. But once you've repaid $2,500 of what you borrowed, you have $2,500 to access again — with no need to reapply or go through the approval process again.
If you don't want to get locked in.
If you get a business loan or merchant advance, what happens if your fortunes turn and you don't need the money after all? You've still got to make the payments and may even face prepayment penalties if you try to pay the money back early. Now you have debt on your balance sheet. With a line of credit, you only use it when you need it, and you only draw down the amount you need. So, if you get a $10,000 line of credit, use $1,000 of it and then realize you don't need the rest, all you have to pay back is that $1,000 plus interest.
If you want to build or improve your business credit score.
Startup small businesses without a strong credit score can benefit from getting a business line of credit and using it wisely. By drawing down small amounts on the business line of credit, then paying it back on time and in full, you show that you're able to responsibly use credit. (Make sure that the lender reports to business credit bureaus so you can get "credit" for this). Improving your business credit score will help you qualify for other types of financing if you need them in the future.
If you want the security of a financial cushion.
Sometimes cash flow problems arise when we least expect it. If that happens to you, having a business line of credit as an "emergency fund" can make all the difference. The time to borrow money is when you don't need it. If you never use your line of credit, no worries. If you need it, you've got it. Essentially, there's nothing to lose.
Having a business line of credit can solve a myriad of business problems — and help you sleep better at night. Why not look into a business line of credit today?

Rieva Lesonsky is a small business contributor for Headway Capital and CEO of GrowBiz Media, a content creation company and SmallBizDaily.com. She has spent 30+ years covering, consulting and speaking to small business owners and entrepreneurs.