Business Revolving Line of Credit
Our flexible line of credit gives you the money you need to move your business forward.
How Much Will It Cost to Make a Draw?
Select the amount you wish to borrow:
Choose your repayment term
12 months
18 months
24 months
How frequently do you want to make payments?
This won't affect your credit score!
*This business loan calculator assumes a monthly interest rate of 5%. Your interest rate may vary based on your application information.

Apply for a credit limit up to $35,000

Get next-business-day funding after approval

Borrow any time through your online account
---
What is a Revolving Line of Credit
A business revolving line of credit is a flexible method of borrowing money for your business. Rather than borrowing a fixed amount of money once, a revolving line of credit allows your business to borrow as much as you need (up to your credit limit), as many times as you need to, without having to reapply.

A business line of credit is perfect for any business owner who wants to make sure they have the resources they need at all times. It can be used to fund any legitimate business expenses — including inventory, new equipment and payroll — and you only need to make payments if and when you borrow money.

Revolving Line of Credit vs. Business Credit Cards
Aside from the difference of not having to carry a physical plastic card, you can borrow from your revolving line of credit and get money into your business bank account directly. You don't have to make a specific purchase like you have to with a credit card. For example, if you need to make payroll, a revolving line of credit can put funds into your bank account the next business day; you don't have to ask employees to accept your payment.

Revolving Line of Credit vs. Business Term Loans
A revolving line of credit is more flexible than a term loan; you can get the cash you need when you need it and stay focused on the immediate needs of your business. Once approved for a revolving line of credit, you can borrow as much money as you want (up to your available credit limit) without having to re-apply every time. This saves the hassle of filling out an application, waiting for your application to be processed and reviewed, and being limited by the one-time amount of the loan.
How Interest is Calculated on Revolving Credit
To use a revolving loan as intended, you should be clear on how it works — and especially on how interest is calculated. With revolving credit, interest is calculated based on your principal balance amount. Knowing the structure of a revolving loan will assist you in calculating the interest you'll owe.
Principal Balance
Interest on a revolving loan is calculated based on the amount of the principal balance that is outstanding for the prior month. You'll never pay interest on interest; you'll only pay interest on the money you've used. Here's an example that assumes a monthly repayment schedule:
June 1 – 5: You don't make any draws. Your balance is $0. You pay no interest for those five days.

June 6: You borrow $10,000.

June 10: You voluntarily pay back $5,000.

July 1: Pay interest on $10,000 for five days, and on $5,000 for the remaining 21 days in the month.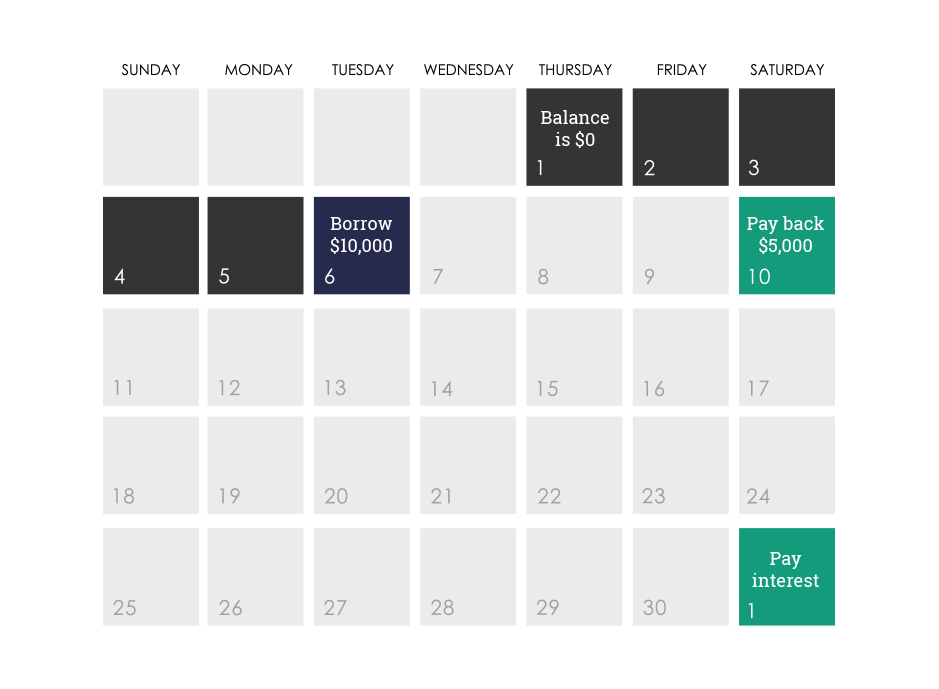 Rate
The interest rate of a revolving line of credit is determined by factors on your application. For Headway Capital customers, interest rates range from 40% to 80%. These rates are fixed, so unlike other lines of credit where interest rates vary based on market conditions, customers know upfront what rate they'll be paying on interest.

Interest Method
Interest on a revolving line of credit is typically calculated on a basis of actual days over a 360-day year. At Headway Capital, we use a 365-day year, so that's what we'll use in this example. The formula to calculate interest on a revolving loan is the balance multiplied by the interest rate, multiplied by the number of days in a given month, divided by 365. So in a month with 31 days, you'll multiply by 31 before dividing by 365, and in September you'll multiply by 30 before dividing by 365.

Calculation
Let's say your principal balance is $10,000 from June 1 – 15 and your interest rate is 40%. Multiply 10,000 by 0.4, then multiply by 15 (days) and divide by 365. Your interest expense for those 15 days is $164.38. Say you paid the loan down to $3,000 on June 16. Now multiply 3,000 by 0.4, then multiply 15 days and divide by 365. Your interest expense for the remainder of the month is $49.32. Add both figures together to get $213.70, your total interest expense for the month of June.