Applying for a Small Business Loan
Fill out an easy and quick application to see if Headway Capital is right for you.
What's your desired credit limit?
$26,000
Weekly

Payment Amount*:

$424.00

Apply Now

We're currently accepting new customer applications. Applying will not impact your credit score.

Applying will not impact your credit score.1
*This business loan calculator assumes a monthly interest rate of 3.3% and a 2% draw fee. Your interest rate and credit limit may vary based on your application. No draw fee in CO, GA, IN, NJ and OK.
How to Get a Business Loan
It's important to know how to get a small business loan that fits your needs. In many cases, that means considering alternative business loans. While the process of getting a business loan differs for each company (and depends on the type of business loans being applied for), there are a few common steps every business owner should take on their path to receiving financing.
Here's how to get a business loan in 5 steps:
Determine what you need the money for and how much your company needs.
Know your numbers, including credit score and business information.
Research your options and choose the right lender.
Prepare an application "packet."
Apply! Complete your application online or in person.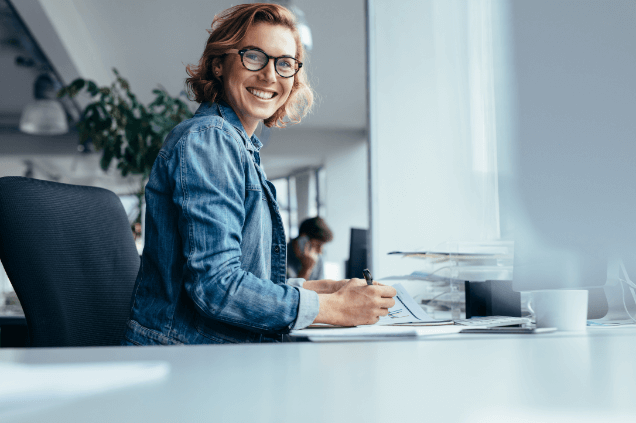 Step 1: Determine what you need the money for and how much your company needs
There are good and bad reasons for business loans. Good reasons include purchasing equipment or real estate, funding long-term software development, or compensating for seasonal sales shortages. A bad reason might include acquiring non-essential or frivolous business assets.
Then, decide how much your company needs. Underestimating the amount of money you need can lead to a lack of working capital sooner than planned. Overestimating can make lenders question the business's viability. With a flexible line of credit, this isn't as much of a concern; however, having a detailed budget supported by financial projections can be beneficial for your business as well as the lender.
Step 2: Know your numbers.
Lenders may still look at personal credit scores as a way to judge the reliability of the principals who are borrowing the money. They'll also look at factors such as debt-to-income ratio, time in business, industry risk and cash flow. It's important to understand how each lender will use these scores to make their lending decision.
Step 3: Research your options and choose a lender.
Step 4: Prepare an application "packet."
While each lender may require different information for your application, you typically will want to have the following documents and figures handy:
A business plan that includes the business owners' resumes**
Financial results and projections (profit and loss, balance sheet, and cash flow statements)
Financial information including two years of tax returns
Step 5: Apply!
Complete your application online or in person (if at a brick-and-mortar location) and hope you get approved! If declined, keep in mind that, like with personal credit, lenders may look less favorably upon several applications within a short period of time. So be sure to get a good feel for your likelihood of approval before submitting the application.
**Not necessarily required by Headway Capital.
What Does Headway Capital Offer?
Headway Capital offers a business line of credit up to $100,000. You can apply online at any time from anywhere with an internet connection. Once approved, you can draw from your line of credit right away. Just log in to your online account and request a draw up to your available credit limit. You'll have the funds available in your bank account as soon as the next business day. As you repay your balance, your funds become available for you to use again.
1We always do a soft inquiry unless your credit file is restricted, in which case we would ask you to contact the credit bureau to lift the restriction. Doing so may result in a hard pull.