First Time Business Loans
Move your business forward with a flexible line of credit from Headway Capital.
What's your desired credit limit?
$26,000
Weekly

Payment Amount*:

$424.00

Apply Now

We're currently accepting new customer applications. Applying will not impact your credit score.

Applying will not impact your credit score.1
*This business loan calculator assumes a monthly interest rate of 3.3% and a 2% draw fee. Your interest rate and credit limit may vary based on your application. No draw fee in CO, GA, IN, NJ and OK.
Get Your First Business Loan in 4 Steps
Obtaining business loans for the first time is a big step for any business, and it's a step that shouldn't be taken lightly. Determining how much you need, how long you need to repay it and your best option for funding is a process that takes a bit of research. Let's start that process by reviewing three things you can do before you apply for a business loan.
Follow these steps and tips when applying for your first business loan:
Know your story and where you're going.

Talk with your accountant.

Build your credit.

Choose the right loan.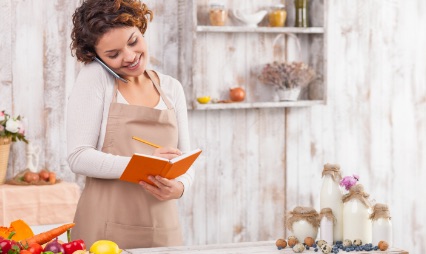 Step 1: Know Your Story and Where You're Going
Business lenders are going to want to know a lot about your past, so it will be important to have your financial and organizational documents ready for presentation. They're also going to want to know where you're headed and what you're planning to use the loan for. Writing a business plan that details how your company operates, the market it targets and where you stand amongst your competitors (and that includes existing and projected financial statements) will help paint that picture for a lender. The better you know the specifics of your company's past and future, the better prepared you will be for the application process.
Step 2: Talk With Your Accountant
It can be difficult to know how much to ask for when you're applying for a business loan for the first time. Typically, new businesses need funding to support at least 36 months of growth. By meeting with your accountant or financial advisor to discuss what you really need and what you can repay, you will be just about ready to shop for a loan. Your accountant can also help you develop the financial statements that could be part of your application checklist.
Step 3: Build Your Credit
As your business (and possibly personal) credit history will be reviewed thoroughly when you apply for a first time business loan, now is an especially important time to be on your best behavior. Many lenders will look at your recent credit history as especially important. Make sure to be making on-time payments, and don't apply for any loans or credit cards until you're absolutely prepared and know what you're looking for. Too many credit inquiries in a short amount of time can appear as a red flag for lenders.
Step 4: Choose the Right Loan
Once you have prepared for the application process, it's time to start shopping for a loan. A big part of doing that is understanding which type of business funding would be best for your business's needs. See our chart below to see which type might be best for you.
Common Types of Small Business Funding
SBA Loans
Merchant Cash Advance
Business Term Loan
Business Line of Credit

Description

The Small Business Administration guarantees a portion of these loans. This way, if a business defaults on the loan, the lender doesn't have as much to lose.

A small business sells a portion of their future sales to a company to acquire a cash advance.

A lump sum of cash you pay back, plus interest, over a fixed period of time.

A lender approves you for an amount of money that can be drawn on whenever necessary.

Advantages

Generally comes with great rates

Fast and reliable method for receiving funds

Longer payment terms and often better interest rates than short-term loans

Only pay interest on the funds you take out

Flexibility; withdraw as much as you need (up to your limit), when you need to

Disadvantages

Lengthy and challenging application process

Can be hard to receive approval

Depending on the company and time period, the cost can be more or less expensive than any other loan offering

Inflexibility; some companies may charge penalty fees for early repayment

Business owners may draw more than they need

Some lenders only grant lines of credit to businesses with at least two years' experience

Often Good For

Businesses with proven success and well-established business credit

Businesses that rely on daily sales and have seasonal ups and downs

Business needs that require a specific amount of money that can be paid in a specific amount of time

Businesses who have intermittent cash flow needs and need regular access to working capital
Description
Advantages
Disadvantages
Often Good For
What Does Headway Capital Offer?
Headway Capital offers a small business line of credit up to $100,000. At Headway Capital, we take a thorough and holistic approach to reviewing your application, and we see you for more than just your credit score. You just have to meet our minimum requirements to have your application considered:
We strive to make the lending process simple. Once approved, you can borrow as much as you need (up to your credit limit), as many times as you need to, without having to reapply. When you need cash, all you have to do is log in to your online account and request a draw. Your money will be delivered to your bank account by the next business day.
1We always do a soft inquiry unless your credit file is restricted, in which case we would ask you to contact the credit bureau to lift the restriction. Doing so may result in a hard pull.