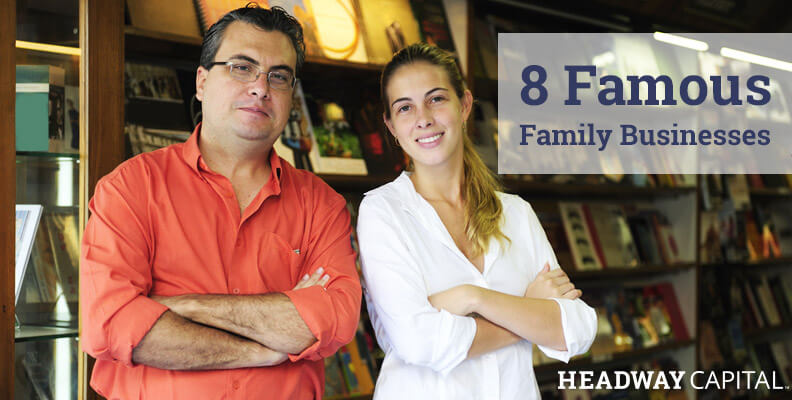 Well-Known Family Businesses
You may not know it, but family-owned businesses are a huge part of the American economy — they account for about 35 percent of Fortune 500 companies.1 Owning any business requires a great deal of planning and, if family is involved, many special considerations. Are you part of a family business? Read about these eight prominent families that still currently own and control their businesses:2,3
1. Walmart2
In July of 1962, Sam Walton founded the first Walmart store in Rogers, Arkansas. By 1967, the Walton family owned 24 stores and by the 1970s it had gone national. Currently, the stores serve more than 200 million customers each week. Walmart is still largely owned and operated by the Walton family.
2. Comcast2
Comcast is the largest broadcasting and cable company in the world by revenue. In 1963, Ralph Roberts founded Comcast in Tupelo, Mississippi after purchasing American Cable Systems. Ralph's son, Brian, took over his post and is now president and CEO.
3. HCA Holdings2
 When HCA Holdings was founded in Nashville, Tennessee it was one of the United States' first hospital companies. Dr. Thomas Frist, Sr., his son Dr. Thomas Frist, Jr. and a group of physicians formed their hospital management company in 1968. Two Frists still currently sit on the board.
4. Mars2 
Frank Mars and wife Ethel sold homemade candies before inventing the Milky Way and founding Mars in 1923. They opened a factory in Chicago where they invented Snickers and M&M's and manufactured pet food. Their son Forrest had three children, John, Forrest Jr. and Jacqueline, and they currently run the Mars Corporation.
5. Ford Motor Co.2
 Ford Motor Company is an American automaker that was founded in Detroit, Michigan by Henry Ford in 1903. It grew to become one of the largest and most profitable companies in the world. It has been in continuous family control for over 110 years. Three Ford family members sit on the board today, and William Clay Ford, Jr. has taken over as executive chairman.
6. Bechtel Group2,3
One of the oldest and largest family-owned corporations, Bechtel has been an innovator in the engineering and construction industry for over 100 years. Since its founding in 1898, four generations of Bechtel family members have guided the company. Some of their most well-known projects include the Hoover Dam and the San Francisco BART (Bay Area Rapid Transit) system.
7. Nordstrom3
 In 1887, at just 16 years old, John W. Nordstrom came to New York City from Sweden with $5 in his wallet. In 1901, he opened his first Seattle shoe store. He retired in 1928 and by 1963 his three sons had created the largest United States shoe chain. Family member Bruce Nordstrom is still the chairman and his son, Blake Nordstrom, is president.
8. Koch Industries2,3
Fred C. Koch developed an improved method of converting oil into gasoline in the 1940s. His son, Charles, joined the company in 1961 just a few years before his father passed away. He is currently the active chairman and chief executive officer. It is currently the second-largest privately held company in North America, making $60 billion annually.
References
1 Say, M. (2014, May 20). The biggest myth about family business. Retrieved August 28, 2014 from http://www.forbes.com/sites/groupthink/2014/05/20/the-biggest-myth-about-family-business/
2 Weinmann, K. & Groth, A. (2011, November 17). The 10 largest family businesses in the U.S. Retrieved August 26, 2014 from http://www.businessinsider.com/the-10-largest-family-businesses-in-america-2011-11?op=1
 3 Familybusinessmagazine.com (2013). America's 150 largest family businesses. Retrieved August 28, 2014 from http://www.cojoweb.com/ref-companies-Am-largest.html