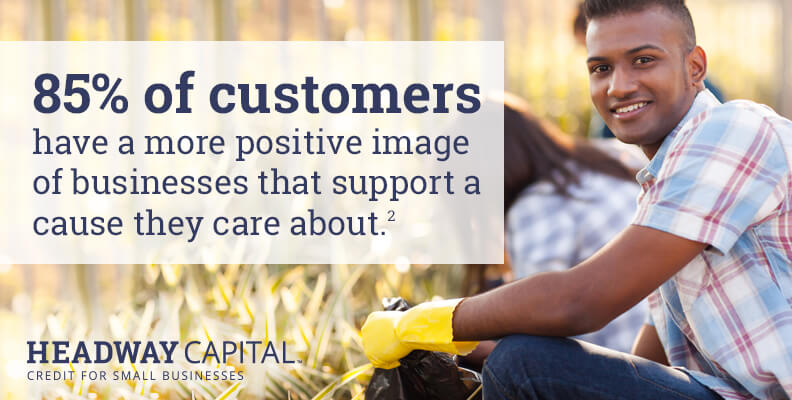 Why Small Businesses Should Give Back
In 2013, total giving was more than $335 billion.1 Supporting local charities and nonprofits is not only important to the economy, it is also important to your customers. All businesses, both big and small, have a responsibility to get involved with their local communities. A great way to do that is through the support of local charities.
As a small-business owner, you have an opportunity to mingle with members of your community by becoming active and supporting a charity or non-profit organization. Giving back and volunteering time or donating money allows you to support charities and organizations you feel passionate about. Supporting a charity presents your business with the chance to become acquainted with the community through giving back.
Getting involved with a local charity means a great deal to your customers. A study shows that 85 percent of customers have a more positive image of businesses that support a cause they care about.2 Ninety percent of customers want to know how businesses are supporting causes.2 Therefore, if you decide to donate a portion of your proceeds, make sure you let your customers know at your storefront and on social media. That way, they can get involved with the giving, too.
Becoming involved with a local charity is also a great way to bond with your employees. When selecting a specific charity to work with, speak with your employees to decipher what causes they feel strongly about and how they want to get involved. Supporting a cause together will increase overall morale and bridge the gap between work life and personal life.
Lastly, supporting a local charity or nonprofit is extremely beneficial from a financial standpoint. A majority of charities and nonprofits operate as tax-exempt 501(c)(3) organizations, which means the donations made to them are tax deductible.2 Volunteered services, cash donations and sponsorship of events are all eligible for tax deductions. Therefore, when you are searching for a local charity or nonprofit organization to become involved with, be certain to look into their tax status.
Small businesses that seize the opportunity to get involved with a local charity or nonprofit will see profits in more ways than one. Increased company morale, employee bonding and community visibility are just a few of the benefits of giving back. Creating a bond with a local charity or nonprofit is just as important to your community as it is your business.
References
1 CharityNavigator.com. (2014). Giving statistics. Retrieved September 10, 2014 from http://www.charitynavigator.org/index.cfm?bay=content.view&cpid=42#.VBBk02RdVA8
2 Beesley, C. (2012, December 10). What your small business needs to know about charitable giving this holiday season. Retrieved September 10, 2014 from http://www.sba.gov/blogs/what-your-small-business-needs-know-about-charitable-giving-holiday-season