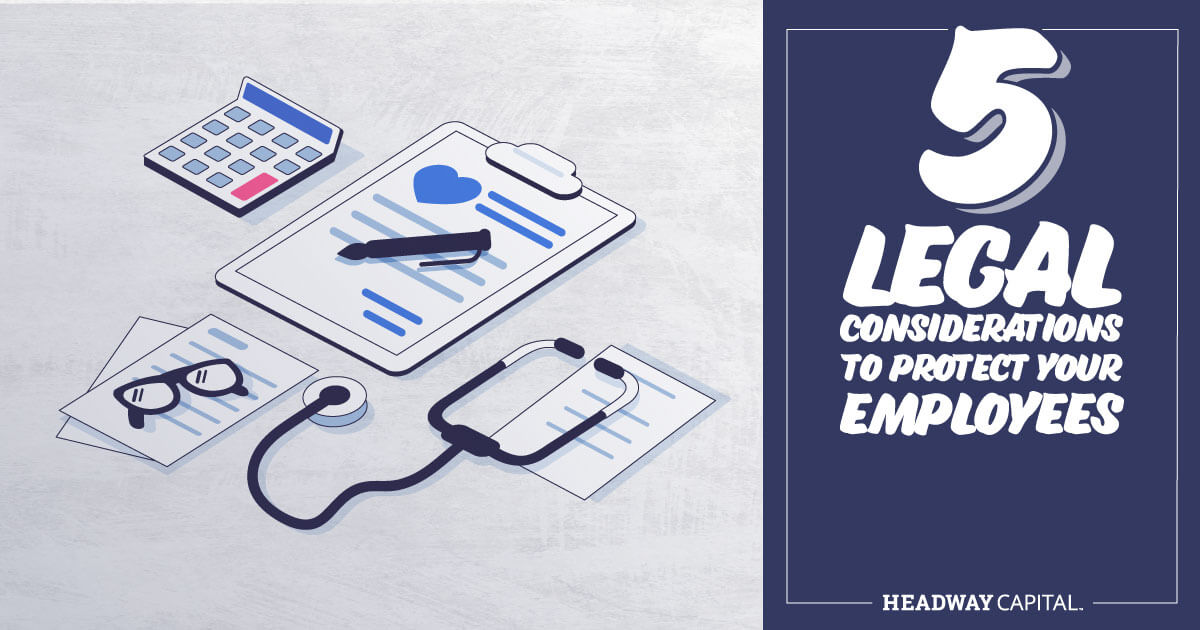 Legal Considerations to Keep Small Businesses Safe
Operating a small business legally and safely requires a good amount of research and proactive planning, but the pandemic has made this responsibility much more serious and urgent. With rapidly changing laws, guidelines and recommendations, it's essential to stay up-to-date on the latest information to stay ahead of the curve as much as possible.
The pandemic has affected the day-to-day operations of most, if not all industries. You might even have to navigate varying local, state and federal regulations for your establishment.
Regardless of your field or type of business, now is a great time to review your policies to safeguard your employees, yourself and your small business. Here are five legal considerations to protect your employees and business in order to continue operating safely.
1. Safe Work Environment
You're probably familiar with OSHA employer responsibilities to maintain a safe working environment, but the pandemic has caused swift and drastic policy changes like never before. While local and state regulations will vary, these general OSHA recommendations can help you protect the health and safety of your staff. If you have a storefront, you also have to ensure that your business meets all public safe operating guidelines for your area. While this is not an all-inclusive list, employers should establish and enforce safe work environment policies that address the following:
Social Distancing: While it likely won't be required forever, employees should be able to keep a 6-foot distance between themselves and customers, from seating arrangements to group gatherings.
Remote Work: If possible, consider implementing a contingent remote work policy to help prevent the spread of germs during critical social distancing times.
Protections for More Vulnerable Populations: Older adults or those with a serious medical condition may be more vulnerable to certain illnesses. While you may not know all this information, you should be willing to accommodate the various needs of your staff.
Cleanliness/Disinfecting: Frequently used areas like kitchens, restrooms, door handles, switches and other high-traffic locations should be regularly disinfected to help prevent the spread of germs and bacteria.
Personal Hygiene: Employers should remind their staff to practice good respiratory hygiene, such as using a tissue or covering their mouth when they sneeze or cough. Additionally, make sure that your staff knows how to stay safe and prevent infection.
2. Quarantine Policy
If an employee is self-quarantining from an infectious disease such as coronavirus, you should enforce a company-wide policy that outlines when they should be allowed to return to the workplace. Consider also whether the employee will be compensated as usual during that time.
Small business owners should use the most recent guidance from public health groups such as the Center for Disease Control and Prevention (CDC) or your local government agency, whichever is stricter.
The CDC recommends that someone with coronavirus (or with a suspected case of coronavirus) should self-isolate for at least 10 days after symptoms appeared. They may return to work when at least three days have passed since their fever resolved, or when they have an improvement in symptoms and two consecutive negative coronavirus medical tests, where available.
Additionally, someone who has tested positive for the disease may not exhibit symptoms, but can still be contagious. In order to protect your staff and small business, the CDC recommends the employee who tested positive should also self-quarantine for roughly 10 days. The employee may return to work after at least 10 days have passed in addition to no new symptoms or if they receive a negative coronavirus test result.
3. Employee Privacy
You're required to maintain required employee privacy standards, but what about certain circumstances in which an employee's health condition may affect others around them? If an employee shows up to work with flu-like symptoms, they should be sent home. However, you can't simply just disclose their protected health information and/or potentially defame your employee.
Small business owners should be well familiar with Americans with Disabilities Act (ADA) regulations that prohibit the disclosure of protected health information or disabilities, except in very rare circumstances. However, coronavirus has been classified as a "direct threat" to the immediate health and safety of others. In such cases, the wellbeing of your staff a whole should be considered. For example, if an employee calls in to report an absence due to sickness, the employer may legally inquire about flu symptoms, such as fever, runny nose, coughing or sneezing, as it is "not likely to elicit information about a disability."
Additionally, you should also protect your staff by giving them the necessary information and guidance to stay safe without providing the name or identity of the individual employee. The following information can help you stay compliant when communicating a sensitive health-related matter to your employees:
A suspected or confirmed case of coronavirus has occurred in the workplace. Employees should carefully monitor their symptoms and stay away from the office if they feel unwell.
Consult a physician if you experience acute respiratory symptoms or fever.
Any other important information, such as steps that you're taking to prevent infection and increase cleanliness, schedule flexibility, social distancing measures etc.
4. Considerations for Caregivers
Employees who are ill or provide care for a sick loved one may also be subject to additional legal protections, such as FMLA (Family Medical Leave Act) or the newer FFCRA (Families First Coronavirus Response Act). The FMLA provides access to unpaid leave for employees with (or to those caring for a loved one with) certain conditions, while the FFCRA outlines rules for paid leave for health conditions or other family care issues regarding coronavirus.
While the stipulations and requirements for each program will vary, they can mean that your business may need to make long-term accommodations for absent team members. This can put a strain on companies with very limited staff or budgets. Small business owners can mitigate the effect of these programs with proactive cross-training, implementing more flexible work arrangements or work-from-home accommodations.
5. Paid Sick Leave
Though FMLA provides access to unpaid leave, paid sick leave is not a federally mandated benefit for employees or employers. In some cases, this can mean that employees who feel ill may not be able to afford to take time off, which can put your staff, customers and yourself at risk for infection.
Paid sick leave can help promote a healthier work environment in that your staff has the resources they need to stay home if they are ill. If you don't already provide sick leave, consider adding this to your employee benefits if or when your budget allows. Otherwise, the CDC recommends a non-punitive attendance policy so that sick employees can stay home without recourse.