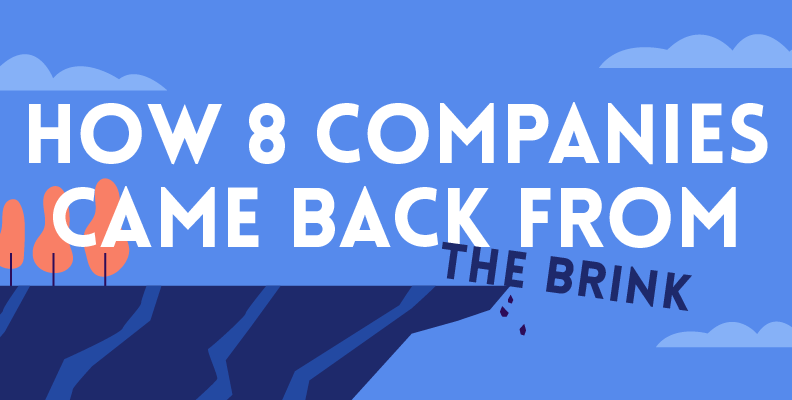 How 8 Companies Came Back From the Brink
The world of business is full of stories of triumph and disaster, and everyday decisions can determine whether a start-up hits the big time or a corporate behemoth completely collapses. While some of the biggest companies out there might seem all-conquering now, they, too, had times in their history where it all could have gone so differently.
Here are the stories of how 8 huge companies found themselves on the brink, yet made it back.
FedEx 
Starting your own business is risk, but FedEx founder Frederick Smith took a huge gamble in 1974. A few years into the operation, the fledgling company was delivering over 1,000 packages each day and expanding into new cities – but Smith found himself unable to cover the rising fuel costs. Knowing he owed $24,000 on Monday morning, Smith took a weekend trip to Vegas, armed with the company's last $5,000. When his COO questioned where their significantly larger bank account balance came from, he simply replied, "I knew we needed money for Monday, so I took a plane to Las Vegas and won $27,000." Smith then went on to raise the money required (through more traditional investment channels) and FedEx started on the up and up, spreading its reach around the world. Gambling is not typically a successful way of making money to cover your business expenses but it shows how close FedEx came to shutting its doors in its early years.

Apple 
With Apple devices in pockets and on desktops and wrists around the world, it's hard to imagine modern life without them. But in the late 1990s, after a series of failed product launches, the tech giant was losing money and "90 days from being insolvent," according to Steve Jobs. The big turnaround began with his return to the fold, as he reduced Apple's product lineup by 70% and let go of about 3,000 employees. His new strategy was to focus the company around four key items: one desktop and one portable device each for professionals and consumers. A year after his return, the company turned a $309 million profit. This success was followed by the launches of the iMac, iPod, iPhone and iPad, all of which transformed not only Apple's fortunes, but the way we live our daily lives.

Marvel 
With several blockbuster movies emerging from its Cinematic Universe each year, it's hard to ignore Marvel these days. But in the late 1980s and early 90s, things were very different for the home of Iron Man, Captain America and the rest of the crew. Rival DC once again overtook Marvel in comic book sales and, in 1996, Marvel shares fell to just $2.37 – a drop of more than 90% from its 1993 price. Years of decline under owner Ron Perelman spelled trouble for the brand. But it all changed in 2005, when new management made a seven year deal with investment giant Merrill Lynch to finance Marvel movies. The Marvel Cinematic Universe was created in 2007, and, thirteen years later, Avengers: Infinity War – the 19th MCU production – made an incredible $2 billion in cinemas.

Delta 
Having begun life as a crop-dusting company in the 1920s, Delta's story was one of seemingly endless growth – until the post-9/11 slowdown for the aviation industry suddenly left it struggling to balance the books. Big job cuts were necessary, and Delta ran into real problems when it started negotiations with its pilots. The process took years and saw the business file for bankruptcy in 2005 after posting losses of $2.2 billion. The company used the bankruptcy to re-invent itself by cutting labor costs, improving customer service, boosting its presence in New York and expanding its network to include more international destinations and secure revenue premiums. In 2015, Delta closed the year with a $5.9 billion income. In 2017, they overtook Alaska Airlines as the number one carrier in the US for performance.

Nintendo 
After beginning as a trading card company in Japan in the 19th century, Nintendo took a long time to rise to dominance as the master of the video game world. In the 1960s, the company was desperately searching for a new market to move into – they tried out taxis and even 'love hotels,' before settling on toys and, eventually, video games. But it hasn't been a smooth ride, as the company found itself falling behind rivals like Sony and Microsoft when console launches for the likes of Gamecube and Wii-U failed. In 2014, Nintendo posted a loss of $335 million. But the 2016 release of Pokemon GO saw shares spike 50%, and the Switch console seems to have turned Nintendo's fortunes around for the better, becoming the fastest-selling console ever in Japan.

Netflix
Netflix was born when its founder saw the potential for an online DVD rental company, and it's become a world-beating media company by capitalising on the popularity of streaming while generating its own content. But the transition between the DVD and online streaming business models wasn't a smooth one. In 2011, Netflix announced that it would split its services into two, launching Qwikster for the DVD rentals. The hugely unpopular move was quickly scrapped, but not before Netflix stock collapsed and the company lost over 800,000 subscribers. That wasn't enough to stall its rise for long, of course. Just four years later the stock was up 574%, and this year experts predicted that the company will reach 90 million US subscribers in the next decade.

LEGO 
When a woodworking and carpentry shop opened in Denmark in 1895, nobody could have predicted it would lead to a world-conquering plastic toy with theme parks and movie franchises to its name. But the company that became LEGO almost collapsed a few times before it made its first brick. The Great Depression hit the business so hard that Ole Kirk Christiansen began producing wooden toys to make ends meet. The first iconic plastic brick didn't come until 17 years later, but it catapulted LEGO to another level, and by 1990, the company was one of the top 10 toy manufacturers in the world. Though the popularity of video games saw LEGO's market share suffer, a major restructuring process – which led to the sale of LEGOLAND parks – helped turn things around, making LEGO the world's most valuable toy company.

Ford
Henry Ford had already been through two bankruptcies before he founded Ford Motor Company in 1903, so its success wasn't easy to predict. The 1908 launch of the Model-T car changed the world and put Ford on the map – and for decades it led the way as one of the top car manufacturers in the US, acquiring brands including Lincoln, Land Rover, Jaguar and Aston Martin. But by 2009, the company found itself in year after year decline, posting losses of $14.6 billion despite job cuts and the sell-off of many of its acquired entities. A $5.9 billion loan and cost-cutting measures helped get Ford back on track, and just six years later the company was making record profits of $10.8 billion.

Sources
FedEx. (2018) Our Story. about.van.fedex.com
Zhang, M. (2014) The Founder Of FedEx Saved The Company From Bankruptcy With His Blackjack Winnings. businessinsider.com
Entrepreneur. (2008) Fred Smith. entrepreneur.com
Johnson, E. (2017) FedEx raises TNT integration costs by $75 million: filings. reuters.com
Rawlinson, N. (2017) History of Apple: The story of Steve Jobs and the company he founded. macworld.co.uk
Rossignol, J. (2014) Apple Turns 40: Reflecting on Four Decades of History. macrumors.com
Irish Examiner. (2016) Apple timeline: The key milestones in the company's 40-year history. irishexaminer.com
Linzmayer, O. (2006) 30 pivotal moments in Apple's history. macworld.com
Yarow, J. (2014) The First 10 Apple Employees: Where Are They Now? businessinsider.com
Edwards, B. (2013) Remember the Newton MessagePad, 20 years later. macworld.com
Dormehl, L. (2017) Today in Apple history: iMac G3 arrives to save Apple. cultofmac.com
Dilger, D. (2013) Twelve years ago today Apple began selling iPod. appleinsider.com
Kerin, J. (2018) A History Of Apple Stock Increases. investopedia.com
Chen, B. (2010) April 28, 2003: Apple opens iTunes store. wired.com
Reuters. (2011) Timeline: Apple milestones and product launches. reuters.com
Molina, B. (2016) The 40 biggest moments in Apple history. usatoday.com
Sonenshine, J. (2018) Apple just hit an all-time high. markets.businessinsider.com
Marvel. (2018) Marvel Comics #1. marvel.com
Grand Comics Database. (2018) Marvel Comics. comics.org
Lambie, R. (2015) How Marvel went from bankruptcy to billions. denofgeek.com
Wilkerson, D. (2009) Disney to acquire Marvel Entertainment for $4B. marketwatch.com
Gay, C. (2016) Timeline of airline. news.delta.com
Deseret News. (2007) A timeline of key events at Delta Air Lines. deseretnews.com
Gosai, H. (2018) Delta Takes First Place in Airline Performance in 2017. airlinegeeks.com
SoftSchools. (2018) Nintendo Timeline. softschools.com
NSidr. (2003) Nintendo History Lesson. nsidr.com
Husain, O. (2015) The past, present, and future of Nintendo. techinasia.com
Nintendo. (2018) Company History. nintendo.co.jp
Shapiro, E. (1991) Nintendo Goal: Bigger-Game Hunters. nytimes.com
Moriarty, C. (2013) Sony's Documentary on Playstation 2's Retail Dominance. ca.ign.com
Schreier, J. (2011) Nintendo DS line outsells Playstation 2, Nintendo says. wired.com
Nintendo. (2018) Dedicated Video Game Sales Units. nintendo.co.jp
Reuters. (2014) Nintendo heads for third consecutive annual loss as Wii U flops. reuters.com
BBC News. (2016) Nintendo shares up more than 50% since Pokemon Go release. bbc.com
Miucin, F. (2017) Switch sets new sales milestones. ca.ign.com
CNN. (2014) A brief history of Netflix. cnn.com
Crunchbase. (2018) Netflix. crunchbase.com
O'Brien, J.M. (2012) The Netflix Effect. wired.com
Hall, G. (2017) Netflix at 20: How it went from quirky startup to global entertainment superpower. bizjournals.com
Netflix Media Center. (2003) Netflix Surpasses One Million Subscribers. netflix.com
Hastings, R. (2011) An Explanation and Some Reflections. netflix.com
Pepitone, J., Dickler, J. (2011) Netflix stock sinks 35% as subscribers flee. cnn.com
Egan, M. (2015) Netflix is up over 500% in 5 years. cnn.com
Seitz, P. (2018) Netflix Could Reach 90 Million U.S. Subscribers In 10 Years Or Less. investors.com
Miniland. (2018) How It Started… miniland.nl
LEGO. (2018) LEGO History Timeline. lego.com
The CFO Center. (2017) A True Toy Story: LEGO's Incredible Turnaround Tale. thecfocenter.com
Thielman, S. (2013) How Lego Became the Most Valuable Toy Company in the World. adweek.com
Trangbaek, R.R. (2017) The LEGO Group Reports Record Revenue In 2016. lego.com
Encyclopedia Britannica. (2018) Ford Motor Company. britannica.com
O'Brien, S. (2015) The Complete History of Ford: Income, Price & Dividends. dividend.com
Ford. (2018) Our History. ford.com
History. (2018) Ford Motor Company unveils the Model T. history.com
History. (2018) Ford Buys Lincoln history.com
Rothman, L. (2014) What happened to the car industry's most famous flop? time.com
MotorSport Magazine. (2015) Ford takes over Aston Martin. motorsportmagazine.com
CNN. (2000) Ford buys Land Rover. cnn.com
NBC News. (2006) Ford to cut up to 30,000 jobs, idle 14 plants. nbcnews.com
Vlasic, B. (2009) How Ford Avoided the Meltdown that Hit GM, Chrysler. cnbc.com
Isidore, C. (2008) Ford: Massive losses, job cuts. cnn.com
Vlasic, B. (2009) Ford Reports a Record $14.6 Billion Loss for 2008. nytimes.com
Muller, J. (2012) Automakers' Report Card: Who Still Owes Taxpayers Money? The Answer Might Surprise You. forbes.com
Isidore, C. (2012) Ford: Biggest profit since '98. cnn.com
Ford. (2016) Ford Delivers Breakthrough in 2015 with Record Full Year Pre-Tax Profit of $10.8B; Net Income of $7.4B; Fourth Quarter Pre-Tax Profit up 96 Percent. ford.com
Marshall, A. (2018) Ford Finally Makes Its Move Into Electric Cars.