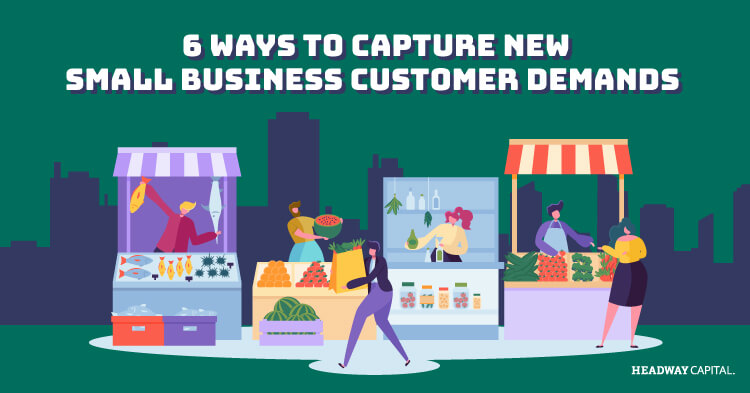 How to Pivot Your Small Business to Meet New Consumer Trends
Recent economic and societal events have had enormous impacts on small businesses in practically every industry. If that weren't tough enough, many entrepreneurs are realizing that their old business models may no longer be profitable or sustainable for the future.
What can you do to help your small business survive and thrive in the long-term? Look to offer in-demand services that can help you save money while serving your customers.
Not sure where to start? We've gathered six strategies and tips to help you capture some of the most in-demand services your small business can offer today's consumers.
1. Reevaluate Your Customers' Needs
With so many factors at play, it's worth taking a serious look at your business, what you offer and reasonable ways you can adapt your business model. You can learn a lot just by asking your existing customers what you can do better, what they want and/or how their habits have changed in recent months. If you're not sure how to reach out, you can create a simple online survey, social media post/message or email questionnaire to send to your audience.
Beyond engaging with your customers, it's helpful to keep an eye on your competition. Have your competitors added new services or products? Do they offer something that you don't? Look for ways you can stay ahead of local brands that are similar to yours.
2. Make Health and Safety a Priority
No matter what kind of business you own, it's essential to follow and maintain the most up-to-date safety and operating standards for all employees and customers. You may also want to specifically address any additional safety precautions and measures that you're taking on your website or in-store. While specific regulations will vary based on your location and type of company, general business guidelines and disease-prevention tips include:
Keeping a 6' physical distance between visitors and/or employees at all time. Use visual cues or signposts as guides.
Encouraging or requiring visitors and/or employees to wear a face mask, where applicable.
Ensuring your location's ventilation system functions properly, and using appropriate ventilation levels.
3. Focus on Building and Maintaining Good Customer Relationships
Some of the most successful small business owners constantly look for ways to grow their audience and engage meaningfully with existing customers, whether in-store or online. They know how to network effectively, and can make people feel right at home at their business.
If you want to make your customers happy, get to know who they are. Beyond your in-store interactions, monitor your online reputation. Keep an eye on your contact page or customer-facing email, social media accounts and any other digital touchpoints. You can also set up Google alerts to keep track of any recent mentions of your business, like online reviews or other posts to see what people have to say.
Make sure to be clear and up-front about any business updates or operational changes as they occur; transparent and clear communication can help you improve your reputation and visibility.
4. Add Pickup, Curbside or Delivery Options
Depending on your business, in-car experiences like drive-throughs or curbside pickup may also give you an advantage and help you meet changing customer demand. Adding additional order pickup options may also help you continue serving a higher volume in case your physical space or storefront is on the smaller side. Also, contactless or touch-free payments can make these services even more convenient for your customers.
5. Take Social Responsibility
According to a recent study, roughly nine out of 10 people would likely buy from a purpose-driven company. What does it mean to take social responsibility? Generally speaking, it means that your business leaves a positive impact on your community and society. You can take social responsibility in your local community by giving back to charities, donating products/services or donating employee time to non-profits and other organizations.
6. Look for Alternative Funding Options
Adapting your business can take a lot of time, effort and planning. When an unexpected cost arises, it helps to have access to some form of revolving capital, like a business line of credit, to help keep things moving. Revolving credit may be a better option for those with fluctuating capital needs since you can borrow just the amount you need, whenever you need it.